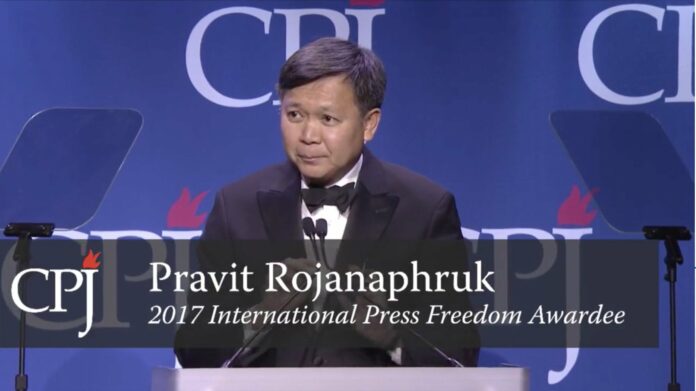 NEW YORK — Khaosod English senior staff reporter Pravit Rojanaphruk was presented a prestigious press award Wednesday by an American organization dedicated to the freedom of journalists worldwide.
The Committee to Protect Journalists, or CPJ, presented Pravit the International Press Freedom Award at a gala dinner in New York, as recognition of his outspoken work denouncing the repression of free speech and persecution suffered by journalists in Thailand.
Pravit, who in July was tapped for the award along with three other journalists, thanked his peers and the committee for the prize, using the stage to criticize the curtailing of press freedoms.
"I'm grateful to CPJ for reminding dictators that violating press freedom is never purely a domestic affair," Pravit said at the event, held Thursday morning Bangkok time.
"Being an International Press Freedom Awardee is like being a member of a select club of mad or daring journalists in peril," he added.
The Thai junta twice took Pravit into custody for his criticism of its rule, suppression of free expression and a law criminalizing criticism of the Thai monarchy. He was held incommunicado on both occasions.
After the second instance, he was forced out of his longtime job at English daily The Nation and joined Khaosod English.
After being presented the award by Gillian Tett, US managing editor of the Financial Times, Pravit noted that the Thai junta leader and prime minister, Prayuth Chan-ocha, has joked about having reporters executed, saying he was "pleased [Prayuth] has yet to execute anyone, journalists included."
The committee tweeted Wednesday about the difficulties "every reporter" faces in Thailand when reporting on the monarchy and the military government, adding however that "Pravit is not every reporter."
Every reporter in #Thailand knows there are two areas that are off limits–the monarchy and the military.
But @PravitR is not every reporter.

— CPJ (@pressfreedom) November 16, 2017
Also honored were Cameroonian correspondent Ahmed Abba, who was sentenced to 10 years in prison on terrorism charges earlier this year for his coverage of violent Islamist group Boko Haram. In Mexico City, Patricia Mayorga received an award for her work covering human rights issues and alleged links between those in power and and organized crime. Yemeni journalist Afrah Nasser rounded out the list. Nasser fled Yemen after receiving death threats in response to her work critical of the government.
Additional reporting: Todd Ruiz
Related Stories:
Junta Releases Critics from Secret Detention
Khaosod English Recognized for Editorial Excellence
3 Junta Critics Charged With Sedition Over Facebook Posts
Khaosod English Reporter Charged With Sedition, Computer Crimes