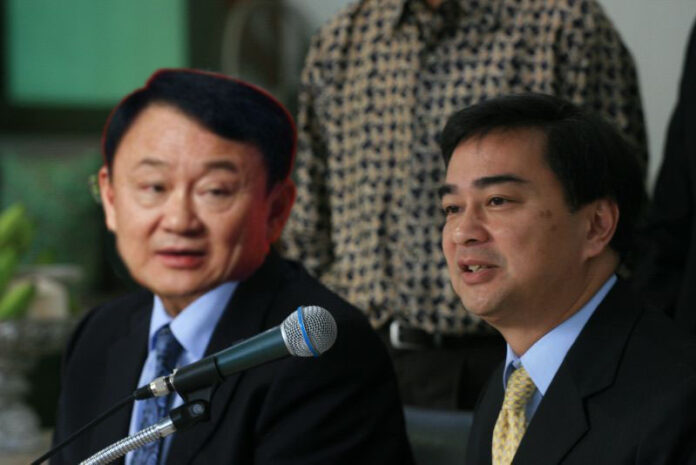 BANGKOK — Senior figures from the Pheu Thai and Democrat Parties are considering the unthinkable: a coalition between the political archrivals to prevent junta leader Gen. Prayuth Chan-ocha's return as prime minister after an election.
The idea, first floated Sunday by former Pheu Thai MP Chaturon Chaisaeng and deputy Democrat Party leader Nipit Intarasombat at a discussion organized by the Thai Journalists Association, raised both support and eyebrows.
"If the two parties can't join hands, it cannot form a government," Chaturon said a day later on Monday. "If one doesn't want to see an [unelected] outsider as prime minister, the cooperation between the two big parties will be the most crucial condition."
Chaturon insisted that his idea was sound despite criticisms from those Pheu Thai supporters who see the Democrat Party as their enemy.
Chaturon stressed that he suggested the idea as an individual and not as a Pheu Thai representative. He urged Pheu Thai supporters, many of them Redshirts who hold historic enmity toward the Democrat Party, to set matters aside partisanship and look at the bigger picture.
"Those supporting the Pheu Thai Party likely do not want to see the National Council for Peace and Order extend its power [beyond elections]. I don't want to be the key person pushing for this, but I think it's imperative to not support an outsider as PM," Chaturon said.
The possibility of Prayuth returning to power post-election comes from the new constitution written under its supervision, which weakened the roles of the dominant parties and loaded the upper house with military appointees with a voice in the selection process.
Chaturon said that while he understands Redshirts who dislike Democrat Party leader Abhisit Vejjajiva for his handling of the 2010 anti-government protests – which resulted in nearly 100 deaths, mostly of civilians – they would have to consider whether they want to see Prayuth maintain his grip on power.
Chaturon said he knows the idea is still in its inception and questioned by some within his own party.
Pheu Thai Secretary General Phumtham Wechayachai said it's too premature to discuss. Chaturon – who served as education minister under the previous civilian government – predicts that in a year's time, before the scheduled November 2018 elections, people may see the junta take steps to keep the two major rival parties from uniting.
Nipit toned down his message since Sunday, saying his idea is not necessarily tied to a coalition with the Pheu Thai Party. Democrat Party supporters largely see the Pheu Thai Party as corrupt and a proxy of ousted fugitive former premier Thaksin Shinawatra.
"It's still difficult," Nipit said Tuesday by phone when asked about a coalition between the two. "There's the conflicts, the policy and ideological [differences]. It's still just an idea."
Nipit said it may not be necessarily to have a Pheu Thai Democrat coalition if the Democrat could form a coalition with smaller parties to attain at least 375 seats. The upper House, with 250 seats and the right to jointly vote for a new prime minister, will be mostly appointed by the junta leader for the first five years after elections. Six of 250 senate seats are reserved for heads of the armed forces and police.
Similar to Chaturon, Nipit said there's no way an appointed senate would not support Prayuth or military-chosen candidate who may not be an MP.
Both Nipit and Chaturon said they have had no private direct communication with one another at this point.