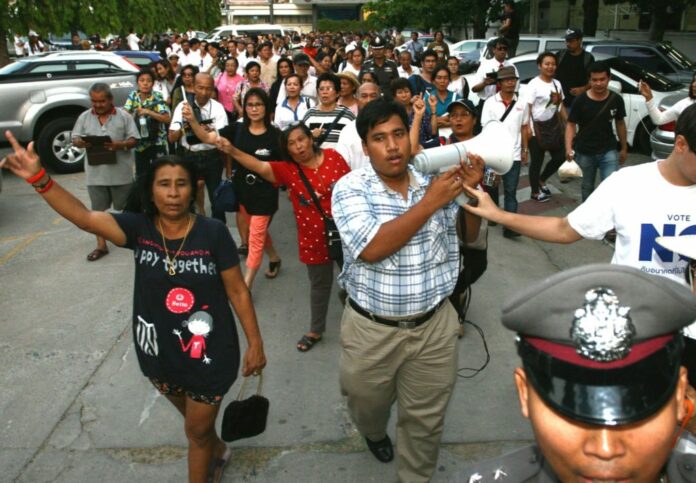 BANGKOK — Pro-democracy activists will converge Friday to tell the military junta that its days in power are numbered.
In what appears to be a test case, protest leader Sirawith Seritiwat said Thursday that he has decided not to notify the police about the demonstration, which is set to take place 6pm at One Siam Skywalk, as required by a public assembly law.
"I didn't notify the police. Political gatherings ought to be a permissible right. We are not violating anyone's rights or shutting down the street," said Sirawith, aka Ja New.
All political protests and gatherings of more than four people are banned by the junta. The Public Assembly Act 2015 passed by the junta-appointed parliament also requires demonstrators to notify local police no less than 24 hours in advance. Violators face fines of no more than 10,000 baht.
Sirawith, 25, said he received a phone call from a man claiming to be an army intelligence officer Wednesday enquiring about the planned demonstration.
"[He] asked me what I am going to do," Sirawith said. "I said it's like what I announced. He said I didn't ask for permission right? I asked him back why should I seek permission?"
But the chief of Pathumwan Police Station said he already learned about the protest from social media. He also suggested that Sirawith would not be charged with any crimei f he agrees to keep the protest quiet and brief.
"I don't think so," Col. Popathorn Jitman said when asked whether police will disperse tomorrow's rally. "Ja New has organized his activities here before. He was just here on Sept. 29."
He added, "If his activity is quiet and only takes a short time, there shouldn't be any problem."
Sirawith said he expects about 100 demonstrators to show up for the event, which is titled "Time is Running Out." He said he hopes the rally will remind dictators that their time are up.
He also said he will petition the junta's rubber stamp parliament to launch a no-confidence motion against the military government next week.
Additional reporting Teeranai Charuvastra