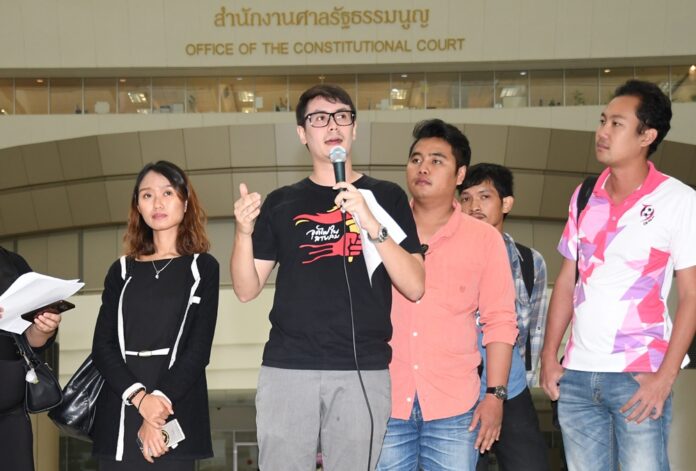 BANGKOK — Only newly formed political parties will be able to engage in political activities under a Tuesday order approved by the ruling junta.
The partial exemption would allow newcomer parties – such as one aligned with the military – to register and meet, whereas existing parties could not. A Democrat Party spokesman Wednesday slammed the uneven approach for benefiting new parties, especially any formed to support the current regime.
"The government must be careful not to favor newly established parties," Ramet Rattanachaweng said in an interview. "A democracy must come with equality … I think this is not equal."
He also urged the military to come clean whether it is forming proxy parties to run in the next election on its behalf.
"There are rumors that the military is setting up parties. The military should have courage and clarify which parties it is setting up for the election," Remet said. "They should declare their intention to the public."
Since seizing power in the 2014 coup, the junta has outlawed all protests and political activity. Due to the ban, political parties cannot hold executive meetings, vote on policies or recruit new members, despite an election slated to take place in less than a year.
Speaking Tuesday, junta chairman Prayuth Chan-ocha said he would use the absolute power granted to him by the new constitution to exempt newly formed parties from the ban he put in place over three years ago. He will use the same provision to amend election law to extend the deadline for political parties to submit their membership lists.
A government spokesman later said the move does not lift the politics ban.
Ramet said Prayuth should have amended the law via parliament instead of circumventing the legislative process with his absolute power.
"The law was already clearly defined and settled. It was approved by the legislative branch," the Democrat said. "Such laws must be amended in parliament."
A group of activists on Tuesday filed a legal challenge to the court to have the junta's ban overturned. The group, led by pro-democracy campaigner Rangsiman Rome, said the ban violates constitutionally guaranteed civil liberties.