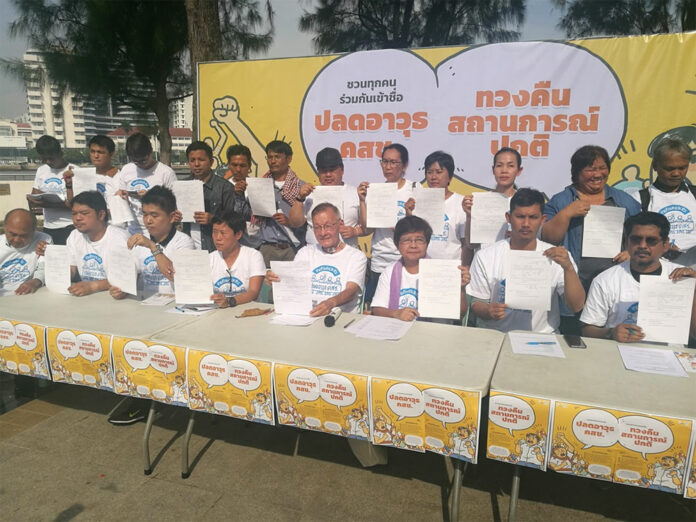 BANGKOK — The largest public challenge to restrictive orders passed by the ruling junta was launched Monday in the form of a signature drive to petition their repeal.
Three years and eight months after the May 2014 coup, an alliance of 24 grassroots civic and human rights organizations read a statement at Thammasat University on Monday morning, calling for fellow citizens to submit their names in a petition drive.
"2018 is the time to follow the 'roadmap' under the constitution toward elections and returning the country to the democratic system. However, if the [junta] orders remain effective, the election that will take place under various mechanisms of the military may [be] unfair," former National Human Rights Commissioner Sunee Chairot said, reading from the prepared statement.
The alliance, calling themselves the People's Network, is targeting 35 draconian junta orders they said restrict fundamental rights and freedom.
They said the move is attempt to "disarm the [National Council for Peace and Order] and return to normalcy."
The targeted measures include junta order No. 7/2014, which banned gatherings or more than four people for political purposes, an order making it a crime to not respond to junta summons and another banning political parties from meeting or engaging in activities.
The junta imposed direct and indirect restrictions on assembly, expression and political activity in the wake of the 2014 coup. It said they were necessary steps to stabilize the nation and aid it in rooting out endemic corruption before power was returned to the people.
Jon Unpakorn, a former senator and founder of legal reform advocacy group iLaw, told reporters that the network aims to collect at least 10,000 signatures as required by the 2016 charter to bring a motion before the legislature.
He said they will not press the National Legislative Assembly, or NLA, to act because they do not recognize the body's legitimacy. All members were appointed by junta leader Gen. Prayuth Chan-ocha.
"We don't have confidence in the NLA, and the NLA was not elected. So far, the NLA has not passed legislation beneficial to the people," he said.
"We debated the matter, and we will wait until there's an elected House of Representatives. We hope we don't need to wait for the new parliament [to take action] however," Jon added.
Under Article 133 (3) of the 2016 junta-sponsored constitution, a motion to repeal a law can be launched when at least 10,000 citizens submit their names on a petition.
In a statement read by representatives of the group, annulling these junta orders is indispensable for the kingdom returning to normalcy.
Representatives of two participating groups said at Monday's news conference they would start out by getting 3,000 signatures each, which would make for 6,000 of the 10,000 signatures needed.
Nutchanart Thanthong, chairwoman of the Four Regions Slum Network, said junta orders have had a palpable effect on activists working with the urban poor. She said the network has been closely monitored since the coup and forced to report its activities to special branch police.
Arat Saeng-ubon, representative of a large domestic NGO network, said he's concerned about impacts on people in areas declared special economic zones, as local residents cannot legally stage demonstrations when they face eviction, environmental degradation or other adverse impacts.
Thanaporn Vichan, a representative of the Mamanchan Labor Network, said blue-collar workers' collective bargaining power has been severely diminished by the ban on political assembly.
"We can't go on strike," he said. "We have to gather at temples or cemeteries instead."
It was unclear immediately if the network would campaign in the street to gather signatures, which may be construed as violating the same ban on political gatherings it seeks to overturn.
Sunee, a former National Human Rights Commissioner and prominent human rights activist, said they will consider how to collect signatures without risking prosecution. At present, the petition is online at iLaw.