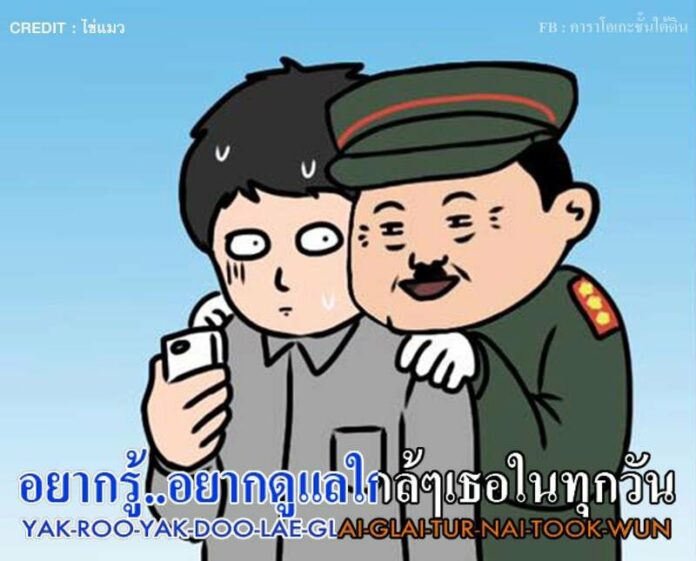 Update Feb. 16, 2018: 'Kai Maew X' appears to have returned at a slightly different address. A new comic was posted at about 2pm showing the Thaksin Shinawatra character showering money on the illustrator-as-everyman.
BANGKOK — The internet on Friday mourned the apparent loss of a webcomic that had become ubiquitous online for its sharp satire of the ruling junta and other current events.
Kai Maew, run by the creator of the breakup meme that hit the world late last year, abruptly disappeared from Facebook on Thursday afternoon. The artist – who remains anonymous to this day – had not announced any intention to remove the page.
Tributes from netizens and other online communities soon filled social media, with many saying they would miss the almost-daily cartoons taking jabs at the military regime's cast of colorful characters.
Read: Dangerously Funny Webcomic Satirizes Thai Politics
"You left without a word of goodbye. My heart wasn't prepared for this," Basement Karaoke croons for Kai Maew with lyrics from a breakup song "Farewell Party" by SoCool.
With more than 450,000 followers, Kai Maew was one of the most prominent online presences.
Speculation about the cause for its demise has included successfully convincing Facebook to remove it or the authorities tracking down the artist. The junta has previously detained and arrested people for satirical online content.
"I think it might be because many accounts were mobilized to report [Kai Maew]. It's possible," pro-democracy activist Ratthapol Supasopon said.
The page is best known for four-panel comics that featured characters ripped from the headlines and mercilessly mocked figures not known for tolerating the content such as junta chairman Gen. Prayuth Chan-ocha and his underlings. Users engaged with the comic in comments and each edition came with a hidden figure of junta nemesis Thaksin Shinawatra to find.
Kai Maew, a reference to a derogatory nickname for Thaksin's followers, not only lampooned the latest scandals involving the regime, but also current affairs and celebrity news.
The same illustrator is also behind webcomic page Tod Maew, which deals less with politics and more with absurd humor. It's also where the "Thai Political Crisis Breakup" meme was first born. The Tod Maew page did not respond to messages seeking inquiry as of Friday morning.