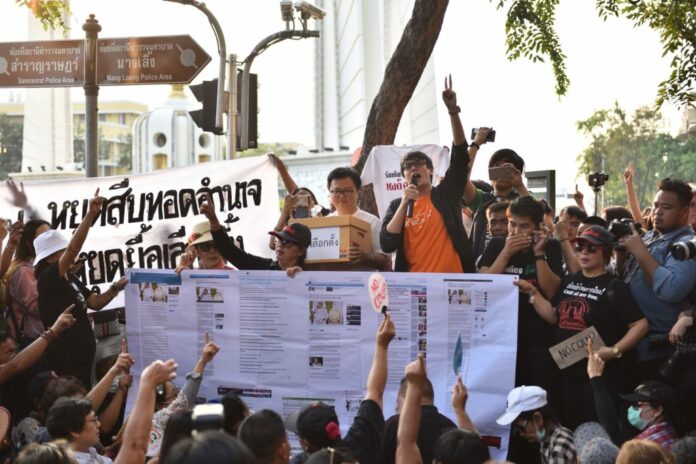 BANGKOK — Pro-democracy activists on Saturday pledged to stage the most prolonged public protest in recent years to demand an election by November.
Undeterred by complaints filed by the junta on Thursday to have them prosecuted on charges of sedition, the campaigners urged the public and politicians of all sides to join them for a rally that would take place May 19-22. They said they would announce the venue at a later date.
"I am inviting khun Nipit and khun Abhisit to join us," activist leader Rangsiman Rome said at a news conference, referring to Democrat executives Nipit Intarasombat and Abhisit Vejjajiva. "There is no political actor anymore. The choice we have left is between standing on the side of the military who seized power from the people, or the people who are demanding that power back?"
The junta on Thursday filed complaints against Rangsiman and six other activists for staging a Feb. 10 protest demanding general elections be held in November, as previously promised. The regime also wants 43 people prosecuted for joining the rally, which drew more than 100 people.
The news conference was initially scheduled to take place at the Liberal Arts Faculty building in Thammasat University, but staff on Friday canceled the booking, saying they did not want to get involved in "political matters." The press event was relocated to a nearby building.
The military government has repeatedly postponed holding an election since its May 2014 coup. In October, junta chairman Prayuth Chan-ocha promised a poll by November 2018, though he later backtracked and suggested that it could take place as late as February 2019.
Deputy prime minister Wissanu Krea-ngam said Friday that an exact election date would be announced in June.