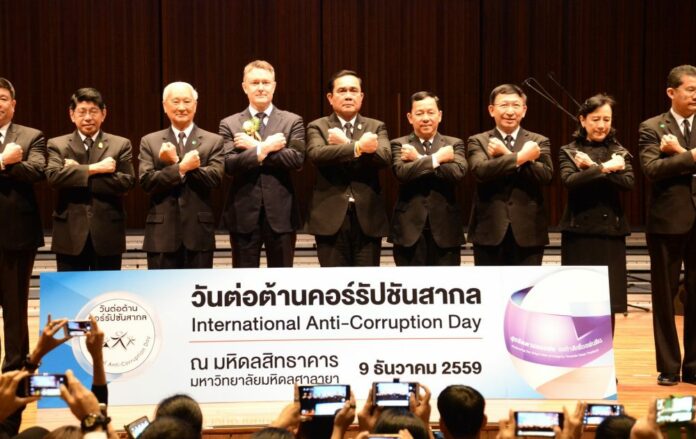 BANGKOK — Thailand under military rule nudged slightly upward in an annual ranking of perceived global corruption published Thursday.
Transparency International ranked the kingdom No. 96 of 180 countries in its global look at "perceived levels of public sector corruption according to experts and business people."
Thailand tied with Indonesia, Brazil, Colombia, Panama, Peru and Zambia. Although the ranking was an improvement over last year, Thailand remains below nations such as Bhutan (26), Brunei Darussalam (32), Rwanda (48) and Malaysia (62).
"This year, the index found that more than two-thirds of countries score below 50, with an average score of 43," the Berlin-based organization said.
Thailand scored 37 points, below the global average of 43. This was a slight improvement from 2016 when Thailand scored 35 but still down from 2015 and 2014, when the kingdom was given scores of 38.
The latest annual report was the first to come out out since Thailand's active participation and Transparency Thailand, a sister organization, decided to pull out from Transparency International after years of repeated low scores since the 2014 coup.
Transparency International described results in the Asia Pacific region as having "high variance in public sector corruption."
"From top scorers like New Zealand and Singapore, to some of the worst scorers like Cambodia, North Korea and Afghanistan, more than half of the countries in the Asia Pacific scores less than 50 on the index. In fact, on average, the region scores just 44. With a scale of 0 to 100, where 100 means very clean and 0 reflects a deep-rooted, systemic corruption problem, the Asia Pacific countries, on average, are failing," the report said.
"Often, when individuals dare to challenge the status quo, they suffer the consequences. In some countries across the region, journalists, activists, opposition leaders and even staff of law enforcement or watchdog agencies are threatened, and in the worse cases, even murdered," it continued.
The report cited Cambodia, Papua New Guinea and China as places where civil society organizations "are permanently under threat from the authorities."
Cambodia, which recently launched a crackdown on civil society, is one of the worst-ranked countries in the region at No. 161 out of 180 nations and a score of 21.
Proposals made by Transparency International to improve the situation in the region includes putting in place laws and institutions that will prevent corruption from happening in the first place, reducing impunity for the corrupt, improving space for civil society to speak out and improving integrity and values.
The highest ranking countries are New Zealand and Denmark with 89 and 88 points respectively. In the Southeast Asian region, Singapore scores the highest at 84 points and ranked at Number 6 among the 180 nations. The lowest ranking goes to Syria, South Sudan and Somalia with scores of 14, 12 and 9, respectively.