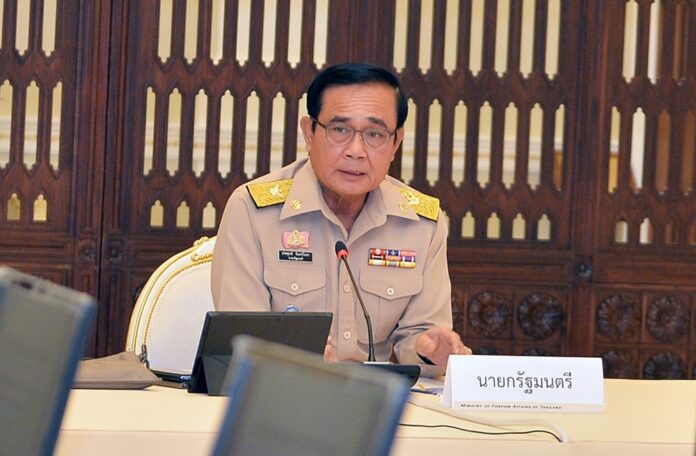 BANGKOK — A newly formed party headed by a former junta official wants regime chairman Prayuth Chan-ocha directly involved in a top role – whether formally or informally.
Col. Suchart Chantaramanee, who served on a Prayuth-appointed reform body until July, said he believes Prayuth qualifies for a key position, making his Palang Pracharat Party the first to try to recruit the junta chief for a direct role.
"Some of us wants him as our adviser," Suchart, 68, said in an interview. "But if that's not possible, he can also have another status. He won't be an official adviser, but he will be in the back, as our strategist."
Suchart stressed that the idea hasn't been finalized in any party meeting. While new parties can now seek permission to hold meetings, they remain banned for existing parties.
He also said his party will nominate the coup leader to be prime minister come the next election, slated to take place early next year.
---
Election Vow Highlights:
Election Will Take Place in October 2015 at Earliest
Post-Coup Election May Be Delayed To 2016
'There Will Definitely be an Election' in 2017, Prayuth Promises
Junta Promises Election in 2017, For Real This Time
No Elections For Thailand This Year, NLA Says
No Really, There Will Be Elections This Year, Prawit Says
Asserting 'Thailand First,' Prayuth Says Elections Up to Him
---
While several other parties publicly voiced their support for Prayuth, Suchart's group is the first to offer the junta chairman a position in the party.
Suchart was among the first group of hopeful election candidates who registered party names with the Election Commission on March 2. His party name – Palang Pracharat – is a reference to the pracharat government initiative launched by Prayuth.
Born and raised in the south, Suchart commanded an infantry unit in the border province of Narathiwat before joining New Hope Party in 1992. He served as its MP in Songkhla province for a term. The junta appointed him as a member of the National Reform Steering Assembly in October 2015, a post he held until his resignation in July.
It's unclear whether the junta leader, who has repeatedly refused to rule out running in the next election, will accept Suchart's tentative offer. His No. 2 said he hasn't heard about the news.
"I don't know about this yet," Gen. Prawit Wongsuwan told reporters Monday morning. "Who offered him? I don't know about it."
Thida Thavornseth from Pheu Thai Party, which pledges to oppose any "outside prime minister" in the next poll, said she's "not surprised" by the news because she has always expected the junta to interfere in the upcoming election via its proxies.
"What they need to do is set up new parties," Thida said. "They feel the need to set up alternative parties for the conservative voters, just like alternative parties for liberals being set up."
Thida added that if Prayuth accepted Suchart's offer, it would clearly show an intimate connection between the regime and the new party.
"They must be so powerful if they dare invite Prayuth to be their adviser," the Pheu Thai leader said.
More than 50 new parties have filed for their names with the election organizers so far.