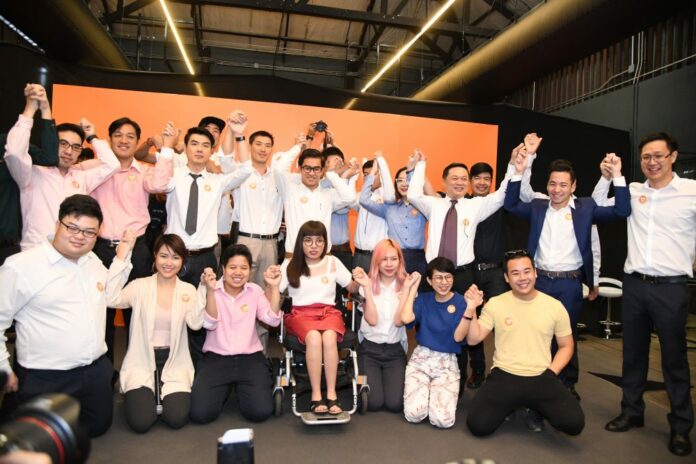 BANGKOK — With a craft brewer, disability activist, freelance translator and filmmaker as founders, the leaders of the Future Forward Party may look more like a great line up for a TED talk.
Headed by a maverick billionaire who styles himself a champion of free speech, the party is positioned as an alternative for disaffected young voters and those fed up with the brand of traditional politics represented by the two major parties of Pheu Thai and Democrat.
But winning elections takes more than ideas. It takes muscular organizations adept at everything from building donor networks and data operations with the local relationships necessary to realize national success. It's currying favor with local canvassers, coordinating nationwide tours and greasing the right palms in exchange for access.
When it comes to the Future Forward Party, the campaign management experience between them adds up to zero. None has run for office or held any position in a political party, raising doubts about their viability come Election Day. As one longtime member of the the country's oldest registered party put it, the country's future can't be put in the hands of amateurs.
"It's not about old or new generation, it's about whether they can really work. The future relies on actual work, and the country is not a place for an internship," Mallika Boonmeetrakool of the Democrat Party told reporters late last month. "An unblemished history comes with a lack of competence in resolving crises."
Such criticisms have dogged the party since it announced its intention to contest the next election as a progressive force for change. But its founders say it's too early to dismiss them as unelectable.
"I was a student president once, when I was in high school. That's the closest I ever came to a democracy," Taopiphop Limjittrakorn, a bar owner once arrested for brewing his own beer, said with a laugh. "In my life, I've never been in politics."
More seriously, the 28-year-old entrepreneur said the party still has time before a vote is held – most recently postponed to February – to build its network of regional chapters and harness technology to boost its prospects.
"We still have time to build our network," Taopiphop said. "It may look like we are at a disadvantage, but not at everything, because there's a possibility. The internet is the game-changer of the new era. The revolution won't come from individuals but from innovation."
Nalutporn Krairiksh, who edits a news site about disability issues, said it's premature to judge, pointing out the party has yet to hold its first meeting.
"Personally, I understand that people are concerned, because the founders … are newcomers who never ran for politics. It's natural that people are concerned," said Nalutporn, 25. "You have to wait and see. We haven't had a meeting yet."
University lecturer Sustarum Thammaboosadee, another founding member, said the first set of 26 leaders announced in March were meant to front its progressive credentials rather than represent its managerial backbone.
"We want the image of people who have stances on different issues, the image of a new generation who are committed to ideals, the image of youngsters who understand problems," Sustarum said. "But there will be other people, too."
Experience vs. Vision?
The Future Forward Party is still technically a not party – only the name has been registered.
But it's won quick excitement from youth, particularly on social media. Its media-savvy and wealthy founder, auto parts scion Thanathorn Juangroongruangkit, has promised a break from the usual political parties stacked with puu yai where personal connections matter more than ideology.
Thanathorn formerly served on the board of Matichon Group, the parent company of Khaosod English. He would not respond to questions from a reporter by telephone Tuesday.
Political analyst Naruemon Thabchumpon said their lack of experience might be made up for by their being a fresh breath. Win the hearts of young people, she said, and the party may end up winning some seats.
"You might come out with two dilemmas. One is … politicians who are experts in their fields," Naruemon said in English, "But on the other way, there are also those who feel fed up with these so-called experts, because we might be too fed up with having too many experts who cannot answer to new challenges."
She added, "Young generations don't see anyone who represents their anxiety. The interesting part is the FFP is aiming to find the answers for the anxiety of the young generation … The FFP is speaking to the new generation. They have many problems, but their voices are unheard."
Taopiphop said they still haven't had a chance to talk about election strategy itself, mostly because of the junta's ban on political activity. In order to comply with the junta's regulations, newly formed parties must officially arrange a large-scale meeting with no fewer than 250 party members in attendance.
"There's no discussion yet. We've only talked a bit in bars, sometimes," Taopiphop said. "We know we could get in trouble, so we are trying not to break the rules."
Sustarum reiterated his party founder's vow field candidates in all voting districts. Candidates will be prioritized by their ideological commitment and not local influence, unlike what parties traditionally do.
"We want members who are committed to our ideals, who [believe in] the policies of the Future Forward Party. We won't look for influential figures who already have votes stacked at their feet," Sustarum said. "Of course, if there are any, and if our principles are similar, then we can work together. But our first criteria is ideological stance."