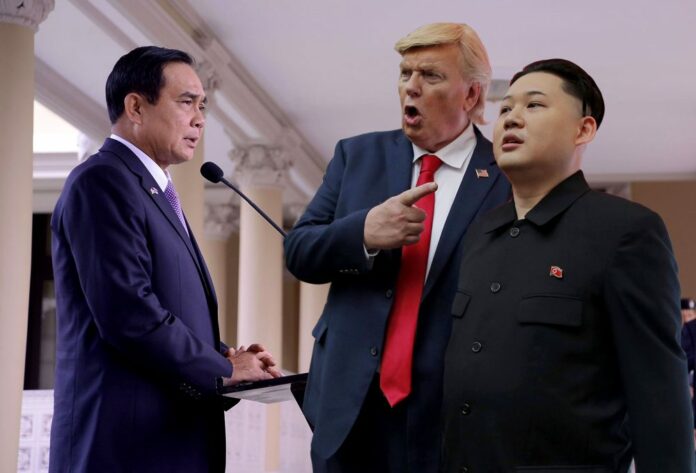 BANGKOK — After watching on the sidelines for decades, Thailand earlier this week offered to play a gigantic role that no country has achieved: hosting a meeting between US President Donald Trump and North Korean leader Kim Jong Un.
Minister of Foreign Affairs Don Pramudwinai told reporters Tuesday the country is willing to host the historic summit. The comment came after Bloomberg named Bangkok a potential venue for the meeting along with eight other cities including Helsinki and Geneva.
A spokesman for the foreign ministry on Wednesday said Thailand has experience hosting international dialogues in the past.
"We have hosted ASEAN regional forums. We were the stage where US and North Korean defense ministers met," Busadee Santipitaks said in an interview. "We have conducted similar activities."
But experts said while Thailand has indeed opened its door to belligerents to make peace in the past, it has yet to house a summit with a scale as large and politically significant as the one Trump and Kim are set to attend. One political scientist also warned the country would not benefit much.
"Thailand's foreign policy is ad hoc, makeshift and scattered, without overall coherence and geostrategic outlook amidst a big domestic political mess," international relations scholar Thitinan Pongsudhirak said. "So inviting them to come here to talk is fine and good, but it would be a brief fanfare that wouldn't yield longer-term benefits."
He also suggested the offer could turn out to be a red herring thrown by the junta.
"A Trump-Kim summit would be a timely distraction for the Prayuth government as it faces mounting criticisms for politicking and playing the political games it has condemned all along," Thitinan said.
Southeast Asian politics expert Supalak Ganjanakhundee said he recognized why Bangkok was an alluring choice for the summit. It was here that many governments and rebels sat down to broker peace, like the Sri Lankan government and the Liberation Tigers of Tamil Eelam, he said.
And its proximity may be attractive to Kim, who only has aging aircraft without long-range travel at his disposal.
But the United States and North Korea – two sovereign nations – would be a different matter, according to Supalak.
"We never had such an experience. We never did such a big thing," said Supalak, who's written extensively about Southeast Asia. "Most meetings we hosted were between state and non-state actors."
Chulalongkorn University political scientist Naruemon Thabchumpon said Thailand has only hosted peace talks for countries in the same region.
"We probably made the offer because there's no country around here that can host it," Naruemon said, ruling out South Korea, China and Japan. "And perhaps Thailand wants to take greater role in the region."
The US Embassy in Bangkok declined to comment. Busadee, the foreign ministry spokeswoman, stressed that she has received word from neither the United States nor North Korea – formally known as the Democratic People's Republic of Korea – about the meeting.
Asked about where an ideal venue for a Trump and Kim summit, Naruemon said she hasn't ruled out Thailand, citing its relative neutrality in the ongoing standoff between the two nuclear-armed nations.
She also suggested Indonesia as a possible choice, because of its history of impartiality and geopolitical importance; ASEAN headquarters are based in Jakarta.
Supalak said he believes Thailand doesn't pass the neutrality test, as the country fought on the side of the Americans in the Korean War. The country has always been a stout ally of the US government, he said, so Scandinavian cities are probably preferable.
"Our neutrality isn't that pure. It's not 100 percent. If they were to organize it in Bangkok, they might as well do it in Tokyo," the author said with a laugh.