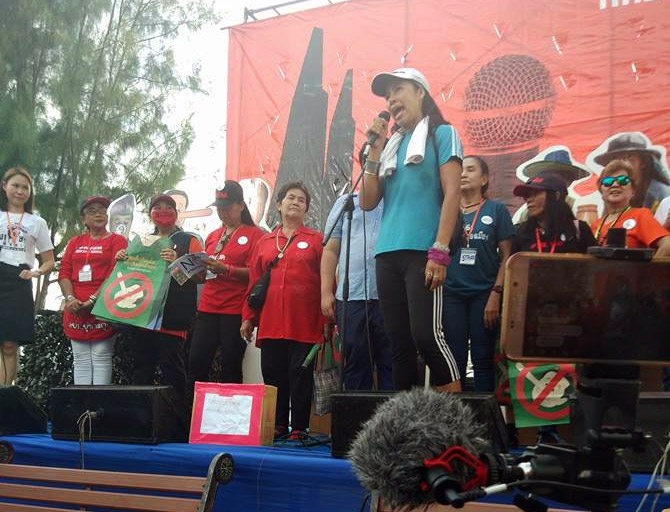 BANGKOK — A woman said Thursday she was held involuntarily for three nights and drugged at a state-run mental hospital after encouraging the monarchy's support for the people at a recent pro-democracy rally.
Sasinutta Shinthanawanitch said some 20 police officers from Chanasongkram Police Station led her away from the Saturday rally at Thammasat University for interrogation. They later sent her to Somdet Chaophraya Hospital, a state-run psychiatric hospital in Bangkok, where she was held four days and injected against her will with sedatives.
"I was sedated and lost my faculties. A nurse told me once I am there, they had that right," Sasinutta said Thursday, two days after being released.
Read: Call Elections or We'll March on Govt House: Protest (Video)
Neither the hospital nor police dispute her account, saying they were acting within the law. But the 49-year-old said her rights were violated.
Police officers told her they want to make sure she's not mentally ill and asked to escort her for a psychiatric test at the hospital. The station police chief said she violated no law.
Sasinutta was among numerous speakers to take the stage Saturday at a rally by the Democracy Restoration Group, where they took turns calling for elections to be held this year. She was the only to mention the monarchy while on stage. The royal family is a freighted topic, especially for junta opponents who have been threatened under the severe royal defamation law.
The ordeal began after Sasinutta, who refused to identify herself on stage, called on the monarchy to "stand by the Thai people" and called on the king to support the public on May 22, the fourth anniversary of the coup d'etat that brought the ruling junta to power.
Police asked her to go with them to have her mental state evaluated. She said she agreed, never imagining she would be locked up for four days and three nights, sedated by injection and then oral tablets.
A nurse at the hospital said its actions were taken under a Thai mental health act which stipulates that anyone handed over by police and suspected of being mentally ill must be examined by medical professionals to ascertain their state of mind.
Arunrat Khamsirntha, a registered nurse at Somdet Chaophraya, said the hospital could not divulge the results of its examination or its rationale for admitting Sasinutta for three nights, however.
Chanasongkram police chief Chakkarit Chosoongnern said officers escorted Sanittnutta to the hospital for a check-up because she appeared to be incoherent. Chakkarit said the woman agreed to be accompanied by police along the way.
"We didn't force her. We invited her over to the police station, and she agreed to go. We assessed her emotional state and and her thoughts. She was unlike normal people. There was something complicated, unlike us," Chakkarit said.
Upon being discharged, the hospital told her to return for further examination this afternoon. Sasinutta, who insists she is not mentally ill, decided not to take further risk and refuses to go.
"If I go for another examination today, they could accuse me of being insane. This is politics. I would lose my driver license, the right to my properties and the right to be a normal person. There are people who are trying to make me out to be an insane person," said Sasinutta, frustration filling her voice.
Human rights attorney Arnon Nampa, who is representing Sasinutta, said she has the right not to return to the hospital. She owns a small oyster sauce factory in Pitsanuloke province, he said.
Arunrat, the nurse, agreed that since Sasinutta was discharged Tuesday, she is no longer obliged to return for further tests.
Sasinutta said her treatment at the facility suggested a political motive. Her evaluation began with questions she considered unpleasant from a psychiatrist, who asked her why she joined the protest.
"How do you know that Thai people are not happy? Does Thailand have that many problems?" Sasinutta said the doctor asked.
In the end, Sasinutta said she resisted and was physically handled by four male nurses while a female nurse gave her an injection. She slept the first night with 50 or so other patients in a locked common room. The next two nights she was transferred to a single room where she was locked inside and given tablets to swallow. Her release came after blood and urine tests and two more verbal examinations with two other doctors, she said.
Protest leader Nuttaa Mahattana, who was managing the stage Saturday, defended police, saying they had no intention to frame the woman as insane. Nuttaa said that Sasinutta's comments were not in line with other demonstrators who called for quick elections because she mentioned the monarchy. Nutta said Sanittnutta was asked to give her name on stage but replied that she had "no name," leading police to become more suspicious.
Nuttaa added that if there's anything that is wrong, it is the lese majeste law, which she regards as not a normal law. Prosecutions spiked since the 2014 coup under the law, which can see people jailed for up to 15 years per violation after a secret trial by military tribunal.
Exiled lese majeste fugitive Nithiwat Wannasiri wrote online Tuesday that it was "most painful" to see the issue of her confinement at the hospital being "censored" by the pro-democracy camp.
As for Sasinutta, she said some security forces have since started calling her son and older brother to ask they convince her to end her political activism. Sounding upset, Sasinutta said she told them to tell the officers to just call her. "This is a threat," she said.
The Chanasongkram police chief said his men had nothing to do with the calls, saying that special branch police or the military may make such calls. He said Sasinutta did not violate any law.
LIVE: Pro-election rally at Thammasat University

โพสต์โดย Khaosod English เมื่อ 5 พฤษภาคม 2018