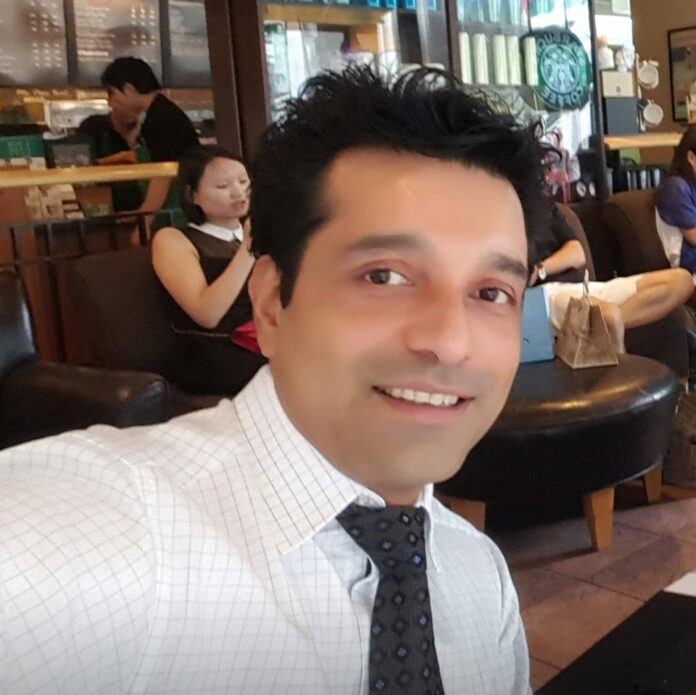 BANGKOK — Thailand's largest English-language daily newspaper Tuesday disputed claims by its recently dismissed editor that he was taken off the job under pressure from the military government.
Umesh Pandey, 44, held the Bangkok Post's top editorial position from July 2016 until he was reassigned Monday. While Umesh alleges the removal followed his refusal to fold to censorship, a company executive and sources within the company attribute it to poor management and ethical breaches.
"Things have been accumulating about this issue since late last year already," Deputy Chief Operating Officer Nha-Kran Loahavilai said in an interview today. "In November, I personally proposed removing him, because his behavior was unfit to be the Bangkok Post editor … But the board gave him a second chance, so I let him stay."
Nha-Kran went on to describe a series of alleged professional and ethical offenses Umesh committed on condition they not be published.
"I don't want you to write about it. Everyone is unhappy with him, but we don't want to kill him or destroy his career," he said, adding that Umesh was transferred to another high-ranking post as assistant to deputy COO with the same pay.
Umesh denied his behavior or management decisions were to blame for losing his position.
"There is no bloody proof of my failure. No kind of proof of my mismanagement. Basically they are trying to cross me out," said Umesh, who has previously worked for Reuters and The Wall Street Journal. "Basically now it's slandering."
The newspaper has neither reported on the removal of its editor nor named a replacement.
After rumors spread online that Umesh had been removed for greenlighting a frontpage article Friday in which sources warned the junta of potential downfall, the former editor took to social media last night.
"When asked to 'tone down' I did not budge and was blunt in letting those making the decision that I rather lose my position than to bow my head," he later wrote online. "The axe finally came down on me just 60-days before my 2-year contract ended."
His contract was up for renewal in August.
Misconducts Denied 
But people who worked with Umesh cited his fostering of a hostile workplace environment and unprofessional behavior. Speaking on condition of anonymity – citing the sensitivity of the issue and fear of retaliation – five current and former staffers blamed him for driving away many newsroom employees, creating a toxic environment and breaching ethics.
"There are few people in the office who like him," one source, a staff writer who worked under Umesh, said. "When many people quit, one reason was because they they didn't like him. He changed many company procedures."
Grievances heard in and out of the newsroom have included forcing all staff to clock in and out via biometrics and refusing to pay travel expenses to gather news outside the capital or country. Only travel paid for by publicists – a newsroom no-no – were accepted, the person said.
An employee in an administrative position at the paper said Umesh treated reporters as expendable.
"Nearly 50 of our brightest people left us," said the source, who currently works in an administrative position at the paper. "He didn't care. He said 'Just go, we can find people to work for us cheap' … if they ever apply for a job at Khaosod, please accept them. They are the best writers and photographers."
Another colleague said Umesh sometimes has cited his position to obtain freebies and privileges from PR firms, which Bangkok Post and most newsroom policies forbid.
In an interview, Umesh denied outright allegations of misconduct. He disputed taking advantage of his position with PR firms – "I'm a self-sufficient journalist," he said – and defended the monitoring of employee hours as a measure to combat fraudulent timecard claims.
As for curtailing travel, he said management had put restrictions on travel before he took the editor's chair. Overseas trips must only be funded by the people inviting the reporters, and he said, adding that he still greenlights travels outside Bangkok, though the number has to be brought down to cut costs.
Umesh also said the departures shouldn't be hung around his neck, as the company was already plagued by low pay and benefits when he took the job, which eventually led to the mass exodus of the newspaper's staff members.
"They get paid less than my maid," the veteran newsman said.
Nonetheless, current and former coworkers expressed dismay that foreign news agencies are painting Umesh as a hero.
"Alarmed and amused by The Guardian running the story. Pure fiction, from what I can gather. The guy simply cannot write. Nor manage," said the source, a veteran among the paper's stable of foreign editors. "Here's a quote for you. He could not organise a sock drawer."
Yet another current employee in editorial said that of Umesh's frequent newsroom complaints, being under pressure from the authorities was never mentioned.
Outside Pressures?
Nha-Kran said the last straw resulting in Umesh's removal came in a meeting recent during which board executives chided him for running a one-sided story critical of the regime when the company was about to invite junta chairman Prayuth Chan-ocha to an event celebrating the paper's 72nd birthday.
"We pleaded with him, and let me repeat the word, we pleaded. We pleaded with him. 'Umesh, can you reconsider what you're doing?'" Nha-Kran said. "Then he pulled a tantrum. He said he's done so many good things. He acted like he didn't give a damn about the company. This happened right in the board meeting."
"And it wasn't the first time. He's done it three, four times. No one pressured him at all. The board saw his actions and thought we could not work together," he added.
Speaking Tuesday, the junta chief disputed that his government – which has at times come down hard on the media – interfered with the newspaper's decision to sideline its editor.
"What does a prime minister have to do with this? It's an issue within a private company," Prayuth told reporters Tuesday afternoon when asked.
One of the sources interviewed for this story said the paper had become driven by political biases and was neglecting to maintain impartiality.
"Even when our paper attacked Yingluck or Thaksin, if it was unbalanced, it wouldn't be right. During the rotten rice debacle, we reported on it too, but we always asked Kittirat for his side of story," the source said, referencing former finance minister Kittirat Na Ranong.
Thai Journalists Association chairman Poramet Lekpetch said Umesh's transfer was an "internal matter" for the Bangkok Post.
"We don't have sufficient information to make a comment on this," said Poramet, whose organization recently called on the junta to lift its restrictions on press freedom. "We believe this is an internal matter."