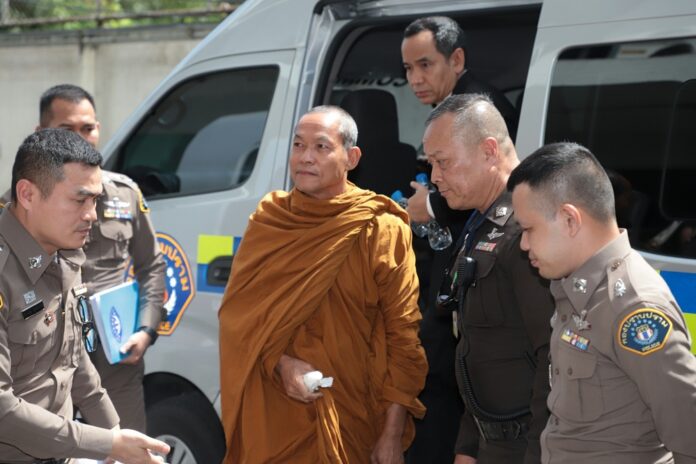 Update: The court at about 6pm denied Buddha Issara bail, citing "serious offenses" he's accused of. 
BANGKOK — The last time Buddha Issara made a public appearance, it was at his temple Wednesday, when he received a groveling apology from a lawyer found guilty of defaming him.
Less than 24 hours later, the firebrand monk's life has taken a dramatic turn that few could have imagined. As of this afternoon, the 69-year-old activist monk – who at the height of his political power commanded a street protest with his own corps of armed guards – was sitting in a courtroom on several serious charges, including royal forgery.
Even the person who filed the complaint against him a year ago was surprised at the news.
"He's charged?" Wichai Prasertsudsiri, who chairs a religious group that styles itself as "Defenders of Buddhism," said by phone. "I didn't know until just now."
Charges slapped against Buddha Issara include stealing firearms, extortion and forging a royal emblem on amulets he sold. Police would not explain why the arrest took place now, years after the alleged offenses. Five other senior monks were also detained on suspicion of pocketing state funds meant for their temples.
Police commandos stormed Buddha Issara's temple at dawn. Investigators said he was wanted for ordering his guards to steal firearms from police during the anti-government protests he helped lead in 2014, and for forcing a hotel to pay him 120,000 baht after he showed up with a mob and demanded accommodations.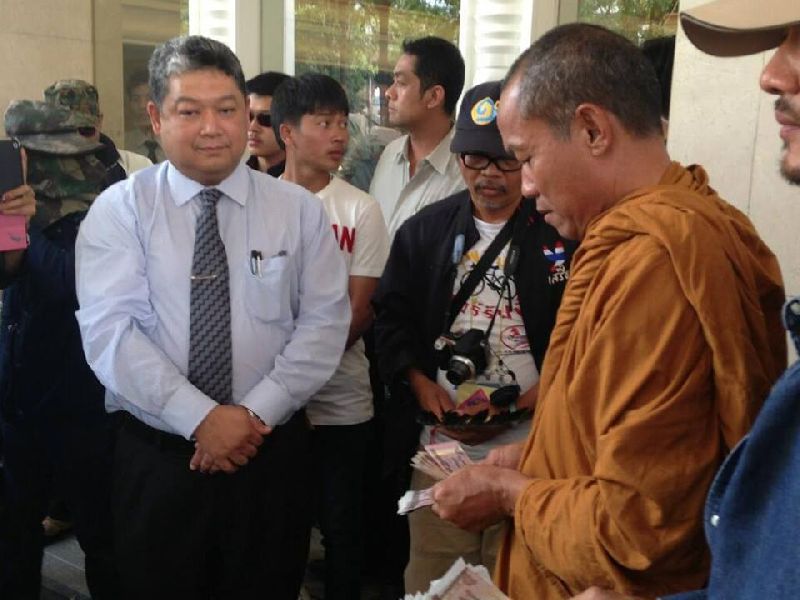 But the most serious charge appears to be the allegation he stamped amulets he made with a royal insignia of the late king Rama IX without palace permission. Using a counterfeit royal emblem is a crime punishable by up to 20 years in jail.
Claiming false ties to the monarchy is also considered a grievous offense in Thailand and has drawn royal defamation charges in the past.
"At least 40 people have been arrested in recent years for claiming a false connection [to the monarchy] for personal gain, as far as I know," Yingcheep Atchanont, an activist who monitors use of royal defamation and related laws, said. "They include even some people who worked on royal projects."
As of publication time, the court was still deliberating on Buddha Issara's possible release on bail. If it decides to hold him, Buddhist authorities are expected to expel him from the monkhood.
Royal Trouble
The allegations of royal forgery were first brought to police by Wichai and his group in April 2017. Wichai, who identifies himself as an avid amulet collector, said he couldn't find a royal proclamation approving use of the king's emblem on the charms produced by Buddha Issara, so he alerted the police.
He said Buddhist authorities later confirmed the emblem was not royally endorsed, but he had not heard anything for months up until today's raid.
"I think it's a good thing," Wichai said of the arrest. "Whoever does wrongful things must be punished."
Wat Onoi, where Buddha Issara resided, declined to comment for this story.
His arrest came as a surprise to many, especially because he is widely known as a staunch supporter of junta chairman Prayuth Chan-ocha and the coup he staged in May 2014, following months of street protests that Buddha Issara and other activists organized.
But a former activist who campaigned alongside the conservative Yellowshirts said he saw it coming.
"His time is due. Because he is… well … Let's say he has many more charges waiting against him," Veera Somkwamkid, who has recently taken up calls against the current junta said, laughing. "I think it's finally time for change."
Veera said he heard several weeks ago that an "influential person" was plotting to disgrace Buddha Issara but would not elaborate.
"I believe police received a certain order from above," the former Yellowshirt leader said.
Related stories:
Cops Detained, Beaten By Buddha Issara's Guards
Buddha Issara 'Not Yet a Suspect' in Lese Majeste Case: Police
Police Apologise To Buddha Issara For Tear Gas Barrage
Buddha Issara To Sue Khaosod For B100 Mil.
Cops Detained, Beaten By Buddha Issara's Guards 10 February 2014