Top: Somyot Prueksakasemsuk at his northern Bangkok home last week. Photo: Thai PBS / Courtesy
In a suburb in northern Bangkok, a man lives alone. It's a large house, and he has suddenly found himself in it after seven years in a prison teeming with criminals.
Before imprisonment, he shared the home with a wife, daughter and son. Now all are gone.
"Seven years in jail. I lost my family, I lost my job. I lost so many things. The most important thing I lost is my feeling as a human because I was caged like an animal for so long," the former political magazine editor said with tears in his eyes on Friday.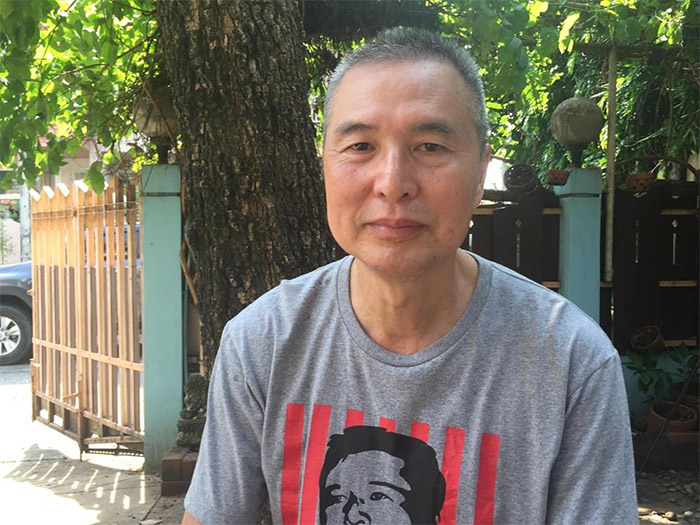 The man is Somyot Prueksakasemsuk, who since his 2011 arrest became a symbol of the excesses of a law which can see people jailed up to 15 years for insulting the monarchy.
On the last day of April, he walked out of Bangkok Remand Prison where he was held for publishing satirical articles in a Redshirt magazine deemed insulting to the royal family – articles he may not have written.
I met him at his home Friday. Since his release, he's spent most of his time cleaning because no one has lived there for a while.
"My house is too big for just one person to live in. The first day after I was released from jail, I had to turn the light on because I was not used to the dark. While I was in jail everyone needed to sleep with light," he said, laughing.
On the first floor of his house, I saw three containers of encouraging postcards from his supporters worldwide. He never saw them while behind bars. He opened a container and pulled out a postcard.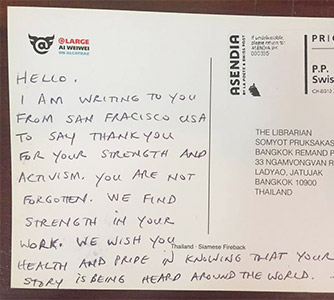 "I am writing to you from San Francisco, USA to say thank you for your strength and activism. You are not forgotten. We find strength in your work. We wish you health and pride in knowing that your story is being heard around the world," he read aloud from the handwritten message on the unsigned card.
After he was jailed, he contracted gout and a wound on his ankle from shackles. Looking ahead to many years of such suffering, he thought to disappear.
"At that time, I didn't want to be in the prison anymore, so I decided to gain my freedom by killing myself. One night, I was hanging myself by a waistcloth, but someone saw the situation. They helped bring me back from near-death, and after that, they took me to meet some psychologists. I got some pills to reduce my stress," 57-year-old Somyot said.
His original sentence of 10 years was commuted in 2017 to seven.
But his release didn't come in time to salvage his life. About a year ago, his wife told him she was remarrying. A few months ago, his daughter quit Thailand to live in another country. His son works as a lawyer far from home.
Somyot was a Redshirt supporter of former prime minister Thaksin Shinawatra. He was arrested April 30, 2011, exactly seven years before his release. Two years later, the Court of First Instance sentenced him to 10 years in prison for the two articles set in a fictitious kingdom deemed to contain references to the late King Rama IX. The decision was upheld on appeal.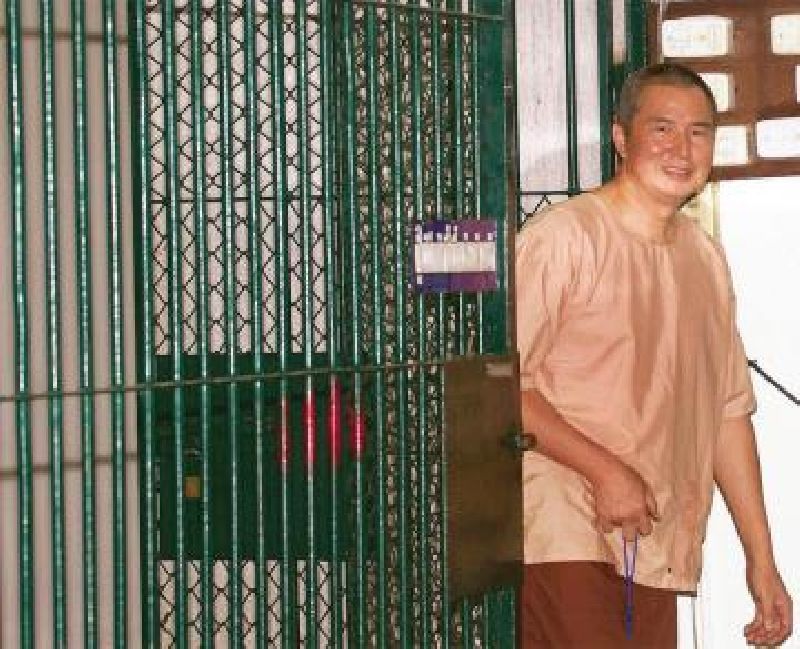 The crime is known as lese majeste. It's described in Section 112 of the Criminal Code as an act which "defames, insults or threatens the King, the Queen, the Heir-apparent or the Regent" and is punishable by three to 15 years per offense.
In recent years the law has become interpreted more broadly to apply to a variety of perceived slights. Rights groups have slammed it as a political weapon to silence dissent.
Pawinee Chumsri, an attorney with Thai Lawyers for Human Rights, said that after the coup d'etat staged four years ago this week, there were more lese majeste cases prosecuted. Her group has handled 54 such cases.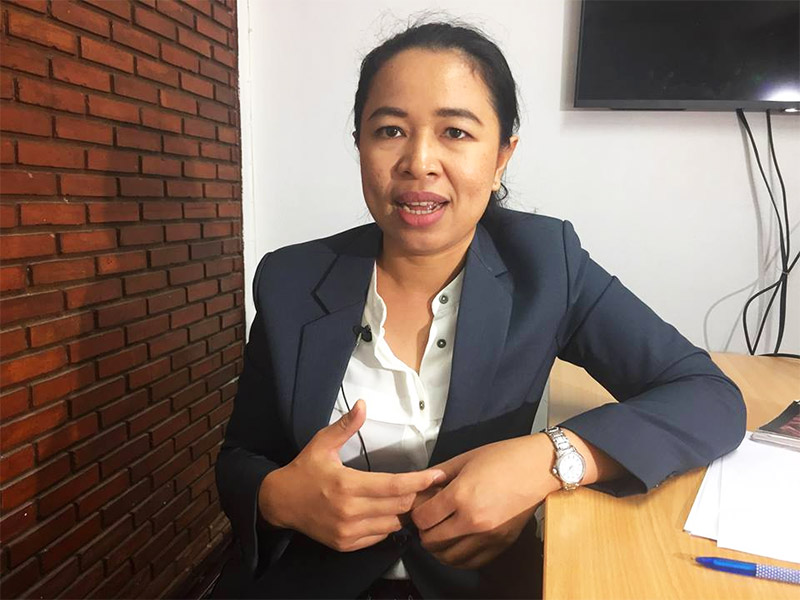 "Since the coup happened the number of lese majeste cases has increased dramatically, and they also changed the system from civilian courts to the military court," she said, referencing the secret trials before military tribunals that have become the norm.
"That means they can arrest a person without a warrant [and hold them] for seven days," Pawinee added. Under a junta special order, members of the military, who have been granted sweeping police powers, can hold anyone without charge for up to a week before taking them to court.
Somyot's articles were published in the Voice of Thaksin magazine in 2010, which he edited. At trial, he told the court the articles were written by a former politician who now lives in exile.
He asked for temporary release 17 times but all were rejected by the court, which said he could not be freed because it was a national security matter and he posed a flight risk.
Legal reform advocacy group Internet Law Reform Dialogue, or iLaw, believes 94 people have been prosecuted under Section 112 since the coup. Of those, 24 have ended in convictions while the other 70 are still in the legal system.
Before the 2014 coup, more than 10,000 people were accused of lese majeste, according to the Royal Thai Police. Since 2007, 473 people have been prosecuted for lese majeste.

Watch my one-on-one interview with Somyot in Thai on Thai PBS.
For Somyot, freedom is a new thing to get used to. While in prison, he finished a political science degree. He's also studying law from the Sukhothai Thammathirat Open University.
Like other former lese majeste convicts who've returned to activism, such as Ekachai Hongkangwan, Somyot plans to find an audience again.
But first he has to catch up with the world.
When he's not cleaning his home, Somyot said he's trying to figure out the internet, because he thinks it will be useful to reach those who support democracy.
Hathairat Phaholtap is a senior investigative journalist with public broadcaster Thai PBS. She has won numerous awards for her reporting on human rights and justice.
Related stories:
Lese Majeste Convict Somyot Freed
Activist Magazine Editor Sentenced Reduced for Insulting Monarchy