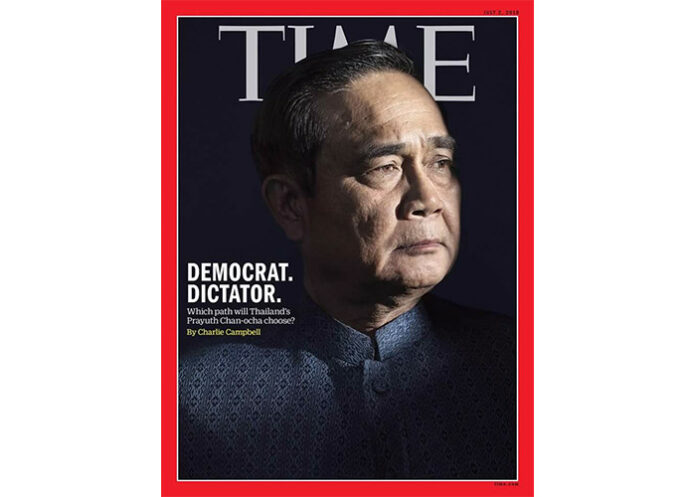 BANGKOK — A top junta official disputed characterizations of the junta leader in a profile featured on the cover of an edition of Time magazine one sale throughout Asia – but not Thailand.
Deputy junta leader Gen. Prawit Wongsuwan Monday denied the government banned the July issue of Time's Asia edition while criticizing its description of his boss Gen. Prayuth Chan-ocha, as "Little Sarit" in comparison to 1960s dictator Field Marshal Sarit Thanarat.
"I see no resemblance in describing Gen. Prayuth as 'Little Sarit.' He is not cruel and has never ordered anyone executed by firing squad," said Prawit, referring to Sarit's use of absolute power to order his enemies and criminal suspects executed without trial. "Whether Time made a distortion or not, I don't know. I haven't read it but officers are handling it."
Sarit ruled Thailand as dictator and prime minister with absolute power from 1959 to 1963. He ruled like a father figure and is credited with inspiring Prayuth to write Article 44 of the post-coup provisional charter granting him the same power. That power is maintained in the current constitution written under military supervision.
Just last week, a top government spokesman held up Prayuth's Time interview as a sign the world was warming to the retired general as he embarked on a tour of European capitals.
In it, Prayuth presents himself as a reluctant coup leader and declares that Thailand has replaced the United States with China as its "No. 1 partner."
It's in a description of his strong relationship with the palace that the article says he "earned himself the nickname Little Sarit, after Field Marshal Sarit Thanarat, who seized power through a putsch in 1957 and helped raise the monarchy to its paramount role in Thai society."
But the magazine, which is available in other regional capitals including Kuala Lumpur, Manila and Singapore, never went on sale here. One of two major magazine sellers said it declined to stock it due to sensitive content.
The director of English language books and international magazines at Asia Books, a major bookchain in Bangkok, had this to say Monday:
"We were informed by the distributor from abroad … that it may contain inappropriate content. Some text may need to be censored, meaning we'd have to cover some parts, so we decided it's better not to sell it."
Asked what content was inappropriate, the director, who declined to be named, said she did not know.
The article contains one sentence describing King Rama X in general terms. It cannot be reproduced here for fear of violating the draconian lese majeste law, under which anyone deemed to have defamed the monarchy faces up to 15 years in prison.
At the popular Books Kinokuniya, an employee at its Siam Paragon branch was even more evasive. She said the Bangkok-based supplier has told the shop it would not be sending this week's magazine.
Asked why it would be censored, the employee replied:
"Please excuse us for not clarifying." Asked for her name, she said: "Please excuse me for not telling."
Related story:
Kinokuniya Pulls Oxford Researcher's Book on 2010 Bangkok Unrest