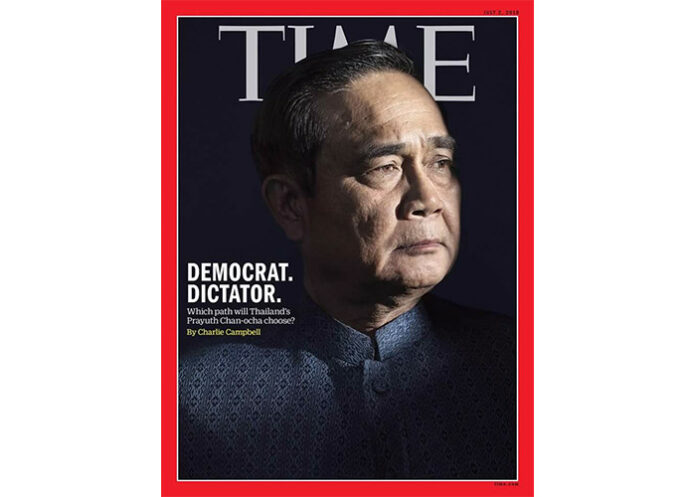 BANGKOK — Student activists said Wednesday they were forced to cancel an event where they planned to read aloud a translated Time magazine article about Gen. Prayuth Chan-ocha after his deputy denied reading it because he doesn't know English.
Tanawat Wongchai, a Chulalongkorn University student and vocal junta critic, said Wednesday he was pressured by school administrators into canceling an event at which he and his friends would translate the cover article of the July issue of Time's Asia edition.
They planned the event after Prawit deflected questions Sunday about the Time profile, which is not being sold in Thailand, saying he hadn't read the article because he can't read English.
"I thought I would translate it so he wouldn't misunderstand the article," 20-year-old Tanawat said. "Maybe he can read English, but he said he can't. I think a deputy PM saying something like that really has a negative effect on his character."
Read: Prayuth's 'Time' Moment Deemed Inappropriate For Thailand
The economics student also said he expected Prawit to know more English since he attended Saint Gabriel's College, a famous all-boys private Catholic school in Bangkok with an English program.
On Sunday, Prawit was disputing the article's unattributed contention that Prayuth's reputation had earned him the nickname "Little Sarit," in reference to a previous military dictator.
Tanawat said that on Tuesday, a university administrator and police from the Pathum Wan Police Station approached him. The university administrator asked him to cancel the event.
"This isn't the first time the Office of Student Affairs intervened. They always cancel anything political and only allow professors' seminars to be held," he said, adding that in May the office allowed a Democrat Party event to be held there.
Related stories:
Prayuth's 'Time' Moment Deemed Inappropriate For Thailand
Chula's Prayuth Hecklers Say Police Hounding Them