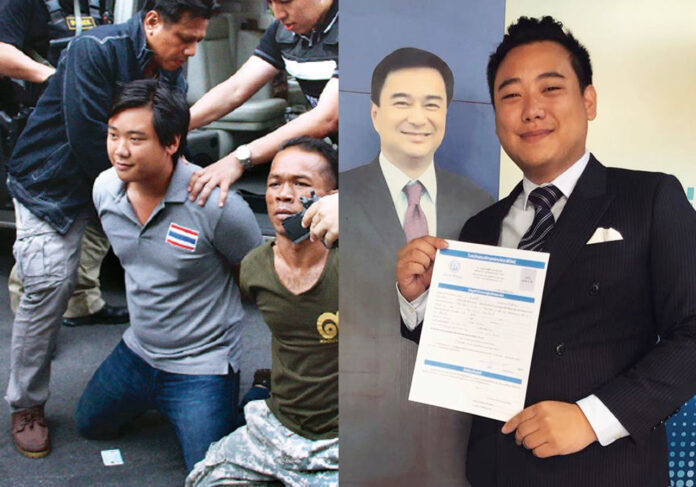 BANGKOK — A young hiso known for vitriolic comments against political opponents and leading protests that prompted the 2014 coup officially joined the Democrat Party Monday.
Tanat "Nat" Thanakitamnuay, who was a leader of the People's Committee for Absolute Democracy with the King as Head of State, aka PCAD or PDRC, joined the Democrat Party while berating the Pheu Thai Party and ousted ex-Prime Minister Thaksin Shinawatra.
"I want to come into politics because I can't let this ghost continue to cheat the country. I can't bear it. Of course, I'm talking about removing the roots of Thaksinocracy. These are the ideals I had since protesting with the PDRC, even before having the opportunity to work for the Democrat party. I will never betray my own ideals," Tanat, 26, wrote Friday in a Facebook post.
His comments came as a response to a news story about former Pheu Thai Lopburi MP Amnuay Klungpa, who said on the same day that he supported reconciliation and cooperation among the opposing parties.
"I will never cooperate with the Pheu Thai Party as long as Thaksin the criminal remains their leader…they can believe in serving a convict like Thaksin if they want, but don't go to the media and talk about reconciliation with us. Why don't you take a hard look at yourself?" Tanat wrote.
This erupted in a flurry of back-and-forths.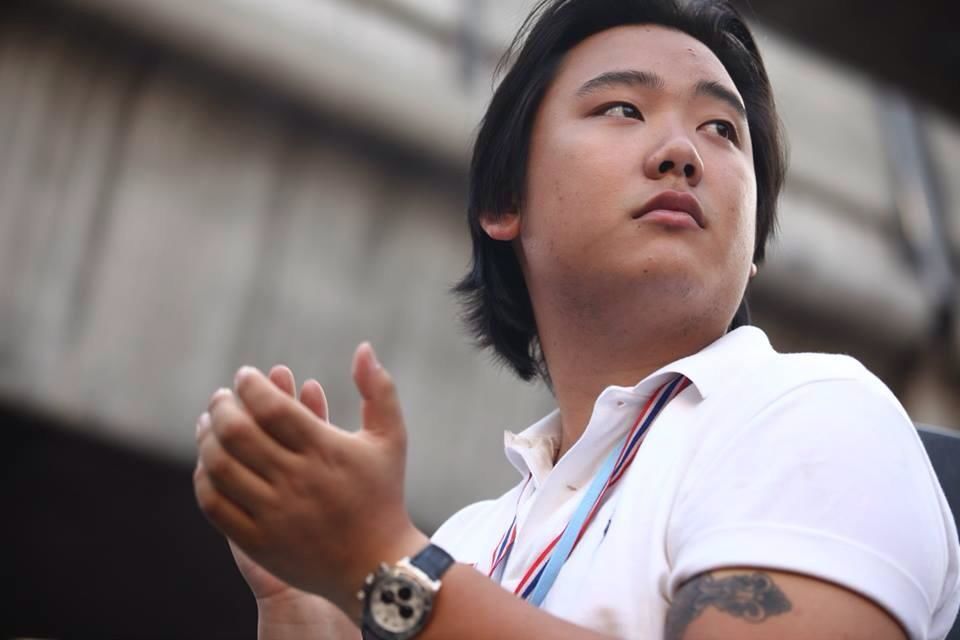 "The Pheu Thai Party has never considered cooperating with minions who blew whistles and brought out crappy crooks that seized power and destroyed the country," senior Pheu Thai party member and former commerce minister Watana Muangsook, 61, tweeted on Friday. "If you want to uproot anything, you have to become an MP first. Next time, wipe your mouth before you speak so that the smell of your mother's milk won't waft out."
Tanat quickly responded on his page on Saturday.
"Mother's milk is still better than jailbird water. Does his mouth still stink of jail? My habits aren't tied to power or status, so I don't think I have to be a MP exercising my rights to protect my country from illegal slaves that escape justice. I'm not a hairdresser, but I will uproot everything that's necessary," Tanat wrote. "If you don't want to cooperate, then what dog of yours came out barking that they want to cooperate with the Democrat Party?"
During the PCAD protests in late 2013 and early 2014, Tanat was a high-profile young leader who harassed politicians in the Yingluck administration and escaped arrest by mob rube.
On May 16 2014, Col. Uten Nuipan and a force of 20 policemen apprehended Tanat and his PCAD bodyguard at Silom Condominium after the court issued his arrest warrant for treason. The PCAD surrounded the police and pressured them until the two were released.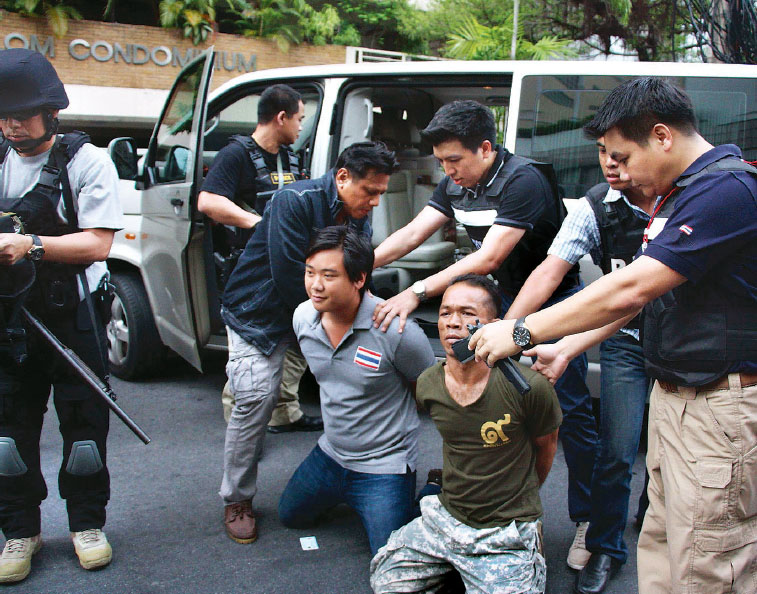 On March 15, 2014, Tanat blew his whistle while approaching Kittiratt Na-Ranong, the deputy prime minister of the Yingluck administration, and yelled at him to resign.
"Whatever happens, I will never let someone like this have a place in society," he says before beginning his verbal assault.
Tanat – then 22 – gained international fame on a Vice news video released April 23, 2014 about his lifestyle and leadership of the PCAD. He was featured with another young rich scion protesting in the mob, Victor Kritsanaseranee.
"I was just taking a joyride," he said about driving his Porsche Carrera 911 into a crowd of Redshirts, or pro-Thaksin activists, when he was 18.
In April 3, 2010, Tanat slammed his car into their parked motorcycles on the sidewalk by the Holiday Inn Sukhumvit. He crashed into a fire hydrant as protesters smashed his car windows.
Tanat told police he pressed the gas pedal out of surprise, and then added that he was related to famed director Takonkiet Viravan.
"You have a number of Ferraris, but not even one in red color," Victor says to Tanat, commending him for not having a vehicle of the same color as the Redshirt movement, despite the supposed popularity of red Ferraris. "And it takes a lot of guts for you, not to get a red Ferrari."
"Driving around a city like Bangkok in your precious little pony, that's about as good as it gets. That's exactly what we fight for," are among the things Tanat says in the video to explain his impetus behind protesting for the PCAD.
Tanat is heir to the Noble Development residential property management responsible for condos such as Noble Around, Noble Nue, Noble Ambience, Noble Be39 and Noble Be33.
"There's nothing real about the democracy we have under the Thaksin regime. There's nothing real about this coming election or the election before. All the votes are being bought," Tanat said in 2014. "We are prepared for violence."
Tanat's official Facebook page is relatively new, with the first post dated June 19.
"I sincerely urge YOU – [sic] as member of our society to be politically active once again," wrote the then-PCAD leader in an Aug. 16 post on his page. "[W]e shall thrive in progress yet preserves [sic] our greatest value in which we hold dear, the institution that is the nation, the faith and The King."