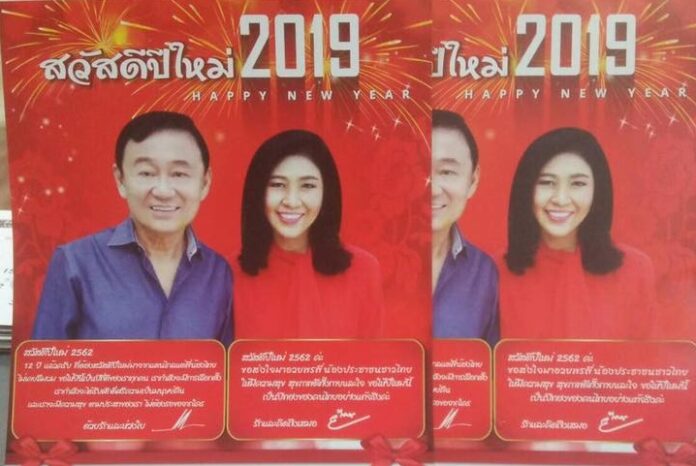 BANGKOK — Soldiers briefly detained and questioned two Redshirt activists about calendars showing faces of former leaders Thaksin and Yingluck Shinawatra, a local police chief said Thursday.
Pornpitak Chantadee and his wife Ratthawee Puiprom were taken to the 22nd Army Circle base in Ubon Ratchathani province after security forces discovered piles of the at their home there province, according to civil rights attorneys. Police said the calendars violate a publishing regulation requiring their source be clearly labeled.
"According to the Publishing Act, there must be clear information about publishers. Otherwise they are illegal pamphlets," Col. Adithep Pichadul, chief of Warin Chamlap Police Station, said by phone. "Even wedding cards and ordination invitations say who they are from."
Section 8 of the law says materials printed "in large volume" must clearly identify the publisher with contact information. Violators of the widely unenforced regulation face a fine of up to 10,000 baht.
The otherwise unremarkable single-sheet calendars have caused quite a stir among the authorities, leading a deputy police commissioner earlier this week to instruct police to see whether they violated any law.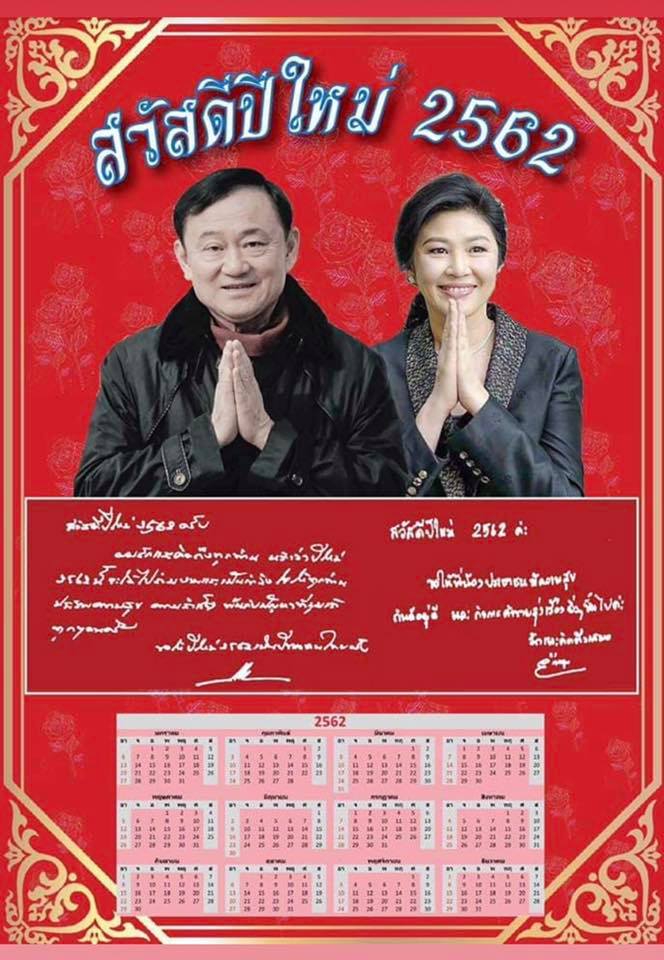 The one-page calendar bears photos of the two former leaders on a red background. One version shows them performing a wai. It also shows what appear to be handwritten New Year greetings from the two siblings.
"Sawasdee New Year's 2019. I love and miss you all," reads part of Thaksin's message.
"I wish all the people happiness, good living and successful commerce," Yingluck's greeting says. Both messages include reproductions of their signatures.
Soldiers visited Pornpitak and Ratthawee at their residence Wednesday morning, a day after a search uncovered about 3,500 Thaksin-Yingluck calendars there, according to a report posted online by Thai Lawyers for Human Rights.
The pair was then brought to the base and interrogated about the calendars before they were later released. Ratthawee told the legal group that the military forbid them from using their phones or contacting their attorney.
Ratthawee, identified by the watchdogs as a longtime Redshirt activist, also said the soldiers instructed her and her husband not to mention their detention to the media.
Base commander Lt. Gen. Ath Singhatsathit could not be reached for comment. Adithep said the two Redshirts maintained they didn't know who made the calendars.
"I think they knew," the police colonel said. "Our intel also knows."
He declined to identify the people responsible. When a reporter asked whether it was Pheu Thai Party, founded by Thaksin and later led by Yingluck, Adithep replied, "Everyone knows the answer to that. There is no mystery."
While the pair has yet to be charged with any crime, investigators are planning to fine the calendar makers for violating the Publishing Act, Adithep added.