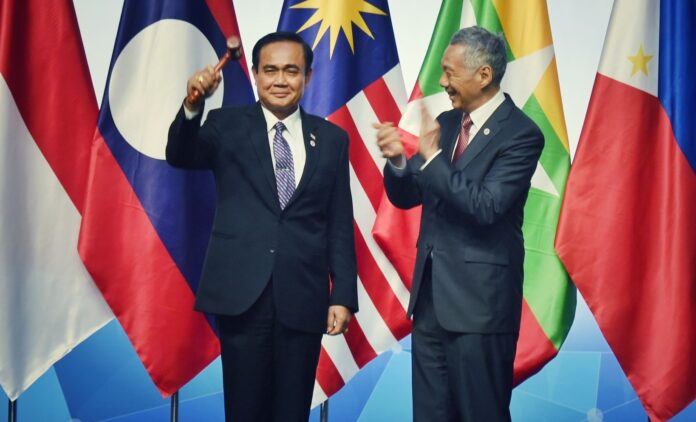 BANGKOK — As the new chair of ASEAN, Thailand will promote mutual respect and shared benefits for its 10 member nations, junta chairman Prayuth Chan-ocha said at a handover ceremony Thursday.
Speaking in Singapore, where Prime Minister Lee Hsien Loong presented a symbolic gavel to the junta leader, Prayuth said ASEAN is now the sixth largest economic power in the world, and he believes the bloc will rise to fourth by 2030.
"For this reason, the 10 nations will have to cooperate even more closely, based on the principle of ASEAN unity and 3Ms, which are mutual trust, mutual respect and mutual benefits," Gen. Prayuth told the audience at the close of the annual ASEAN summit.
Thailand's term as ASEAN chairman begins Jan. 1. A new logo was also unveiled to celebrate the occasion, showing a Thai traditional garland in mangosteen purple surrounding the ASEAN emblem.