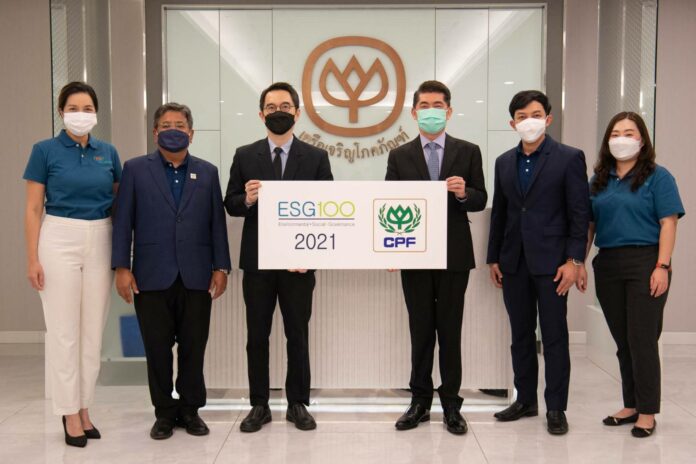 Charoen Pokphand Foods Public Company Limited (CP Foods) has been selected as one of a listed company in ESG100 for 2021 from Thaipat Institute, reflecting it's transparent management in line with environment, social and governance (ESG) to ensure food security and value creation sustainability to all stakeholders.     
Mr.Prasit Boondoungprasert, Chief Executive Officer of CP Foods, said that listed in the ESG100 company in Agro & Food Industry category is one of the company's pride, reflecting its strong contribution to proceed business sustainability with transparency and traceability. This aims to encourage global sustainable target under Sustainable Development Goals (SDGs) to balance business operation in key aspects including economy, social and environment. These factors generate stable revenue and business confidence to the company's trading partner, investor, and all stakeholders in normal environment and uncertained situation from the COVID-19 pandemic. The company has strived toward the 3-benefit philosophy comprises nation, people and the company.  
"Selected in the ESG 100 list has affirmed CP Foods' stance to step forwards on developing food security for food safety delivery focusing high nutrition foods throughout food innovation, environmental friendly and good services that serve consumers' demand in the future. It also creates value added and confidence to all stakeholders through the ESG principles which we adhere for along time. Our successful today has not derived only from our efficient policies but also all of our employees are core driven engine. They all participate in many activities for social development and dedicate for better living standard in community around their manufacturing areas," said Mr.Prasit.  
Mr.Prasit added that the COVID-19 pandemic has challenged the businesses operation which has to adjust rapidly to ensure smooth operation without interruption. CP Foods has to take care of 70,000 employees and their families in Thailand to stay safe with good health and carries the policy towards its oversea investment to ensure all employees are safe. In addition, the company has played a role as 'Good Corporate Citizen' by delivering healthy foods and drinks to Thai people who sufferred from the virus outbreak throughout the past two years. The company has never ignored to conserve environment by investing more to expand its renewable energy to reduce greenhouse gas (GHG) emission to alleviate the climate change.  
Besides, CP Foods also operates business with social and environmental responsibility for safety food in line with sustainable production and consumption, focusing on maximizing efficiency the use of resouces such as energy, water and food loss to reduce GHG emission throughout the supply chain. This reflect the company's clarity and continuity to operate business sustainability.        
Dr.Pipat Yodprudtikan, Chairman of Thaipat Institute, said the continuously listed as one of ESG100 company has reflected CP Foods' outstanding business management realizing on environment, social and governance as well as stakeholders in its supply chain and generate return of investment to investors. 
"CP Foods has succeeded in many aspects particularly environment. The company puts in place to take care of its supply chain from upstream to downstream, showing their ESG compleation. ESG is the trend of listed companies to be more implemented," pointed Dr.Pipat. 
The ESG100 rating are mainly considered listed companies' performance on environment, social and governance together with their result operations. In 2021, ESG100 has been selected from 824 listed companies. CP Foods has been named ESG100 for the first time in 2015 and is the 5th year in 2021./