BANGKOK — On a recent Tuesday afternoon, a small group of expat bikers showed up at a shophouse down Soi Charoen Krung 57 for a serious session of "wheel truing."
The Don Kuson Community Bike Shop is not exactly a shop selling pedal-powered, two-wheel vehicles. In fact, the space located down a small alley in Charoen Krung 57, locally called Soi Don Kuson, is more like a place to hang out, learn how to fix things and steep in bike geek lore, like the importance of tuning one's spokes, aka truing.
It's what they call a bike cooperative, and it's run by a group of avid farang cyclists.
Alexander Martin had just left the U.S. Navy when he came to Thailand about three years ago. Although he found Bangkok an ideal place to pursue a Bachelor's degree, the Nebraska native found very little of the bike shop culture he enjoyed.
"When I first moved to Bangkok, getting a bicycle was my first priority," Martin said. "But my choices seemed to be either a cheap Turbo from a big-block store or a nice new bike from one of the boutique bike shops."
Martin ended up digging deeper and eventually got a bike he liked from what was the Khlong Thom night market in Chinatown.
Seeing other voids in the city's cycling community from limited access to bike gears to absence of space for the local bikers, Martin decided to fill the four shophouses he and his friends rented together with an idea of building the first bike co-op in town, modeling it after a place he used to volunteer at in Seattle, Washington.
"The Bikery was the coolest bike shop I had been to. The fact that it's a free place to hang out, and it builds bikes for other people to buy makes it a worthy place to be," Martin said. "Since then, I look for a co-op whenever I go to a new city, even if I don't need a bike, I just want to see what they're up to."
Martin's sought crowdfunding for his project earlier this year through Generosity.
Some months passed with just a little over USD$1,000 (35,000 baht) raised in the campaign, and the shop finally got off to a small start. It's got basic tools, a workbench, repair stand, some donated bicycles and such. The plan is to expand it as an ongoing project, bit by bit.
Although sitting in a small soi, the shop is quite recognizable since a friend named Ting painted a mural outside showing local scenes of life from stray furry dogs to an ice delivery man.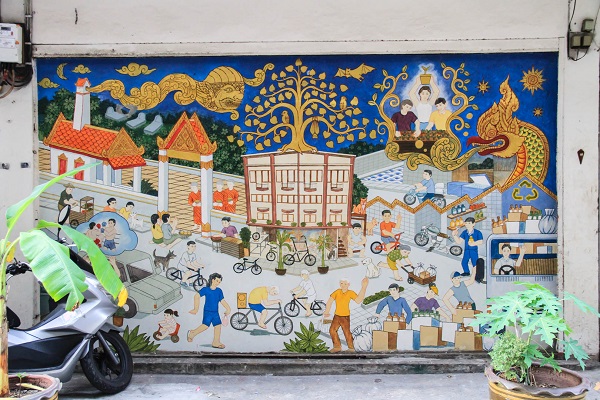 Apart from hosting workshops on things like truing and maintenance, Martin said the shop also helps provide bike tools and a space to fix them up. How does this work? Martin said all of the transactions are supported by donation.
"[We] aren't a for-profit venture," he said. "So [the shop] relies on donations of complete and incomplete bikes, bike parts and tools. It also needs volunteers to man the space and teach workshops."
Asked what's next for his shop, the 35-year-old said he plans to cooperate more with Thai bikers to host regular workshops and organize cycling events including night rides.
"I'd like to alternate workshops in English with workshops in Thai," Martin said. "I think we can have a greater impact if knowledge is transferred in Thai language, at least with people in our neighborhood."
The Don Kuson Community Bike Shop now opens on Tuesday, Thursday and Sunday. The shophouse-bike cooperative is located on Soi Charoen Krung 57 (Soi Don Kuson), and can be reached by motorbike or a 15-minute walk from BTS Saphan Taksin.
Men on Wheels: Gearheads Open Bangkok's First Bike Co-Op