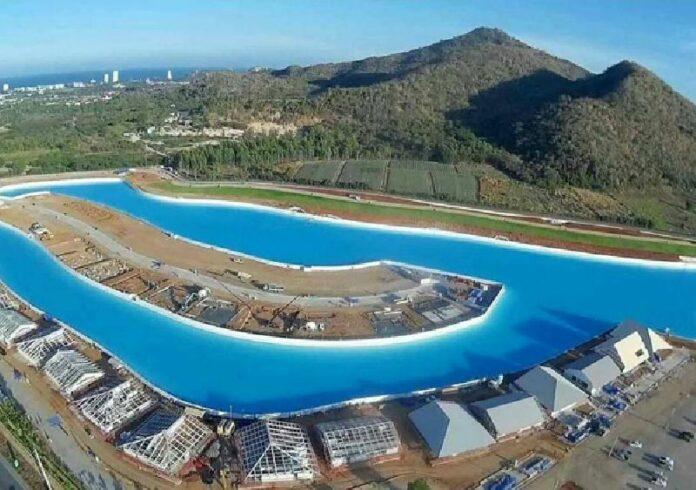 HUA HIN — Thailand's first manmade beach and huge artificial lagoon is raising eyebrows among residents facing a critical water supply problem.
MahaSamutr, a new luxury property development in Hua Hin was reportedly visited by the police this morning after local residents filed a complaint over its possible misuse of water, according to Matichon Online. The recently opened private club has filled a 72,000sqm lagoon while tap water service was disrupted in many households last week, and the reservoir supplying the club is critically low.
A local water resources official providing the development said that while there were distribution problems last week, it had nothing to do with the mega development.
"It was because our pipes were broken," said Puttipat Teeravetvikul of the Pranburi Provincial Waterworks Authority. "There was a problem, but it was not related to the project."
Puttipat said he was not aware of the inspection this morning.
MahaSamutr, billed as Asia's first Crystal Lagoon and artificial beach, is 4 kilometers from the real beach in Hua Hin. It's the main attraction of a 2.3 billion baht housing development that sits on 120 rai (19.2 hectare) surrounded by mountains. It's owned by Pace Development Corporation PLC. The luxurious recreation area is also exclusive: Only those who buy a villa or are invited to buy a membership starting at 500,000 baht are allowed inside.
MahaSamutr's Hua Hin office could not be reached for comment. A spokeswoman at its Bangkok sales office said they were unaware of the inspection but believed everything about MahaSamutr was legally compliant.
On Feb. 23, MahaSamutr said on its official Facebook page that the lagoon's water is directly supplied from the Pranburi Provincial Waterworks Authority, which is a different source than used by Hua Hin residents.
Some remained unsatisfied by the explanation.
"My house is in Huan Hin is right next to the MahaSamutr Project. Last week water did not run for the whole week," wrote Facebook user Mint Cho under MahaSamutr's post.
Authorities said blaming the sprawling lagoon was wrong. Water official Puttipat said Tuesday that most of Hua Hin's water is supplied by a dam in Phetchaburi province managed by the Hua Hin City Hall.
His Pranburi Provincial Waterworks Authority receives water from the Pranburi Dam and is only responsible for a portion of households in suburban Hua Hin.
Puttipat said MahaSamutr only required a large amount of water to fill its lagoon once. After that, they agreed to allot 60sqm daily to replace evaporation for about 200,000 baht each month.
On Jan. 21, Pranburi Dam was told to stop distributing water for agriculture use as it fell to 25 percent of capacity.
Hua Hin and Pranburi are listed as drought-threatened areas in Prachuap Khiri Khan province. The local irrigation office said the suspension of water distribution for agriculture is expected to last until June.
Despite residents' concerns, Puttipat today was confident Pranburi will have enough water to survive the dry season this year.
"It is unlikely that we will have a drought problem in Pranburi this year," he said. "But maybe next year if rainfall is low."