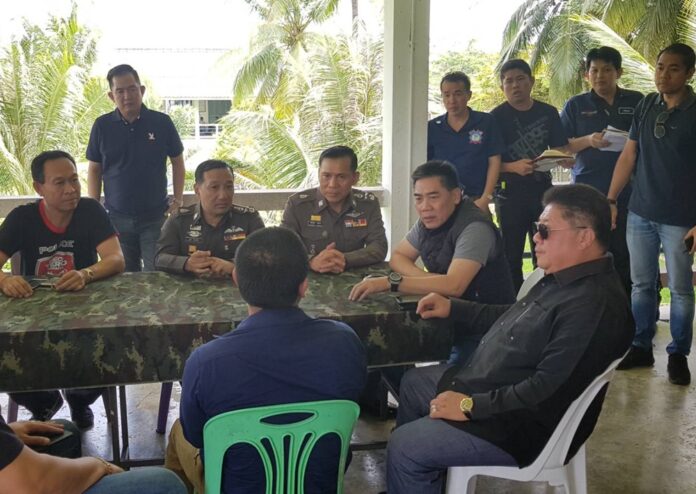 KRABI — Police said Sunday they arrested a man who engineered a home invasion which left a local official along with seven family members dead in Krabi province last week.
Surifat Bannobwongsakul, 41, was detained without a court warrant Saturday evening and accused of killing village administrator Worayuth Sanlang and his relatives, including his two young daughters, at their residence. The June 10 incident has drawn widespread attention due to the savage nature of the crimes.
Police commissioner Chakthip Chaijinda said he even wished Surifat would have put up a fight during the arrest so that security officers could have gun him down.
"In fact, I didn't even want him captured alive," Gen. Chakthip said at a Sunday news conference about the investigation. "I prayed he would fight, but he didn't."
Seven men identified as Surifat's accomplices were also arrested, the police chief said. All of them are being held at an army base in Krabi under a special junta order that allows soldiers to detain individuals without charges for up to a week. Legal counseling is typically not provided during the detention.
Chakthip said police will apply for a formal arrest warrant for Surifat and his alleged accomplices after they are released from questioning, but insisted investigators have enough evidence to implicate them.
"In the end, all of them will be executed anyway," Chakthip said.
All of the suspects are civilians, he added.
The police commissioner said Surifat confessed to plotting a vengeance on Worayuth because the official was suing him over a land dispute. Worayuth also owed a large sum of money to Surifat, he said.
"The deceased and the perpetrator had many heated arguments, especially about land deeds," Chakthip said. "There was a lawsuit. They took it to the court. The lands were worth millions."
Cold Blooded Murders
The shootings took place at the Sanlang family residence. Of the 11 people present at the home at the time, only three survived the killings. The rest were either killed on the spot or died later at the hospital, fruit of gunshot wounds to the head.
The dead include Worayuth, his wife and his daughters, age 13 and 11. Another 6 year old girl was among those killed.
In Sunday's news conference Chakthip gave chilling details of how Worayuth and his family were murdered.
According to the police commissioner, Surifat and seven men donned army uniforms and entered the residence on pretense that they were searching for narcotics. Since the May 2014, it's become common for soldiers to raid properties without warrants.
The assailants then reportedly held the family members hostage as they waited for Worayuth to come home. When he did, he was detained alongside his family.
Although the survivors described the intruders as being armed with assault rifles, Chakthip said those were in fact BB guns. He said Surifat acquired the murder weapon from Worayuth; as the village chief reportedly owned several handguns and shotguns at his home.
Surifat, the police chief said, then shot Worayuth and his family one by one in cold blood.
"He was the one who shot them all," Gen. Chakthip said. "I think he planned it all along. He's a cruel man."