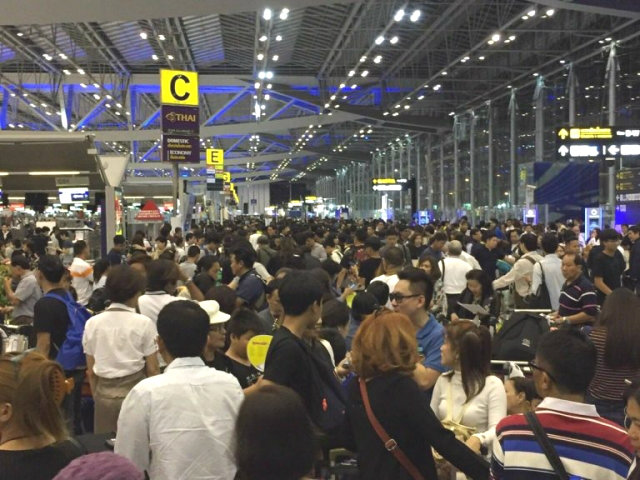 SAMUT PRAKAN — More than 1,000 tourists arrived at Suvarnabhumi Airport on Tuesday, ready to spend six days in Japan during the Songkran holidays.
After hours of waiting, they would find out there was no chartered flight waiting to whisk them away to Osaka for tours they each reportedly paid a travel agency between 9,730 baht and 13,000 baht. Some refused to believe they'd been scammed and waited until midnight.
Disappointment gave way to anger and about 50 holidaymakers among what could be several thousand affected have complained to police their trips were spoiled by what turned out to be a multi-level marketing firm – not a real travel agency – which left them stranded at the airport.
The alleged scam was carried out by marketing outfit Wealth Ever, which different passengers said told them different stories: Some thought they were booking through a certified travel agency; others were told the trip was a perk for joining the MLM scheme.
โอ่ยยยยย ทัวร์ขายตรงน่ากลัวมาก pic.twitter.com/Wf31i9AYMd

— ราตรี พูนเลิศลาภ (@belldelagua) April 11, 2017
The company was not registered as a multi-level marketer, according to the Consumer Protection Board, and Wealth Ever owner Pasist Arinchayalapis has disappeared. Cathay Pacific, who was advertised as the tour's carrier, denies there was any such chartered flight.
It seems Pasist may have a history of similar scams. Facebook page Hell Tour has been tracking his activities since 2014, alleging he pulled the same trick with promised tours to the United States and the Maldives.
Tourism Minister Kobkan Wattanavrangkul said victims should call or file complaints at a police station.
"We don't know how many the exact number of tourists are," she said. "That's why we're operating a 24-hour hotline service to take complaints from them."
Kobkan said she would hold a news conference Wednesday afternoon about the incident.
Col. Montien Baotong of Suvarnabhumi Airport Police couldn't be reached for comment Wednesday morning.