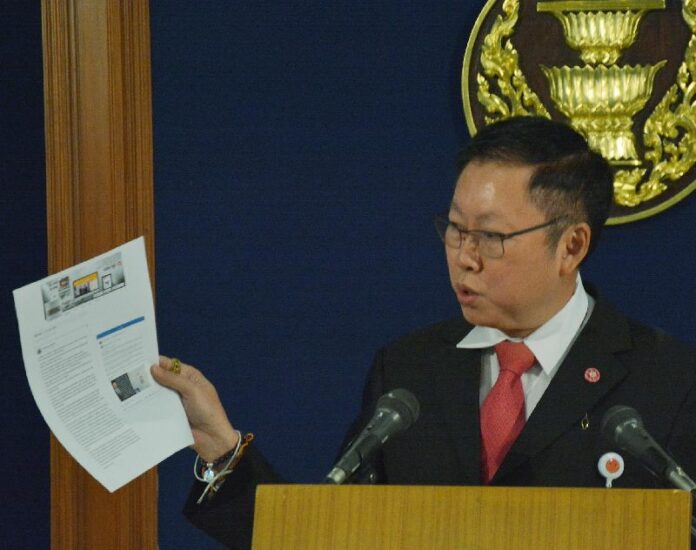 BANGKOK – The chairman of the Constitution Drafting Committee (CDC) said he is considering filing a lawsuit against Matichon newspaper for two "misleading"news reports.
Bowornsak Uwanno told reporters in a press conference today that he was misquoted in a Matichon column and falsely described in a separate article as the reason behind a former CDC member's recent resignation.
Asked whether he would take any legal action against Matichon, Bowornsak said that he is "considering" a libel lawsuit against the newspaper.
"I don't want to say anything about the lawsuit, because I may be accused of threatening the media, but I believe there should be some lesson in this matter," Bowornsak said. "Since you asked – since a reporter asked – please be a witness: I am not threatening to sue anyone. I am merely considering it."
On 1 March, a Matichon columnist, under the pseudonym "Gartong," wrote the following next to a photo of Bowornsak speaking at press conference:
"Ultimately the constitution that is being drafted will serve the idea that "people are not yet ready to have equal rights, because most people still lack knowledge, thoughts, and conscience of a true democracy. Therefore, the system cannot build quality politicians. It opens the way for a certain group of people to use elections to benefit their personal interests. We need to design a new political system to bar stupid and idiotic people. We should only allow them some level of rights.""
The quote was lifted from the column and widely shared on social media among Redshirts, many of whom are farmers in Thailand's rural provinces and often cast by conservatives as "too uneducated" to be trusted with electing the country's leaders.
Thakoon Boonparn, an executive of Matichon Group, which owns Matichon and Khaosod, later posted a statement on Facebook conceding that the use of quotation marks in the column was misleading. However, he wrote that those who read the article "carefully and with a neutral heart" would realize that the quoted section was intended to be a paraphrase of Bowornsak's ideas, not a direct quote.
He also wrote that Matichon's editorial board would publish a formal statement about the incident in the newspaper, and stressed that Matichon is willing to apologize for its mistakes.
"Matichon and other businesses in the Group are media agencies that are routinely scrutinized and criticized," Thakoon said in his Facebook post. "Sometimes we commit errors, like all humans do, but we are ready to apologize for these mistakes and fix them. They were not intended to defame anyone. And we are ready to listen to criticism and scrutiny from society that is reasoned, fact-based, and free of any prejudice."

Bowornsak Uwanno holding a copy of Matichon newspaper in a press conference on 2 March, 2015.
In a press conference today, CDC chairman Bowornsak held up Thakoon's statement and said that it was too "half-hearted" and full of "personal bias."
"I'd to urge this newspaper to show its moral courage and responsibility, so that I may have fairness," Bowornsak said.
The CDC chairman also criticized Matichon over a separate article that suggested he was behind women's rights activist Thicha na Nahkon's recent resignation from the CDC and the National Reform Council (NRC).
The article, published on 1 March, quoted an unnamed source as saying that an argument broke out between Thicha and other CDC members, including Bowornsak, when she tried to propose that the new charter should require a quota of female representatives in parliament. The report was titled, "Angered at Bowornsak on Women Rights Issues, Thicha Tearfully Resigns from CDC – NRC."
Bowornsak called the article baseless and misleading.
"It makes people think that I was the reason that Ms. Thicha resigned, and that I am opposed to women's rights, whereas in reality I have been supporting women's rights since the beginning," he said.
Bowornsak, a conservative law scholar, was appointed chairman of the CDC and deputy chairman of the NRC by the military junta following the military coup on 22 May 2014.
The CDC is expected to complete a draft of the new constitution – Thailand's 20th since democracy was established in 1932 – by September of this year.
For comments, or corrections to this article please contact:[email protected]
You can also find Khaosod English on Twitter and Facebook
http://twitter.com/KhaosodEnglish
http://www.facebook.com/KhaosodEnglish