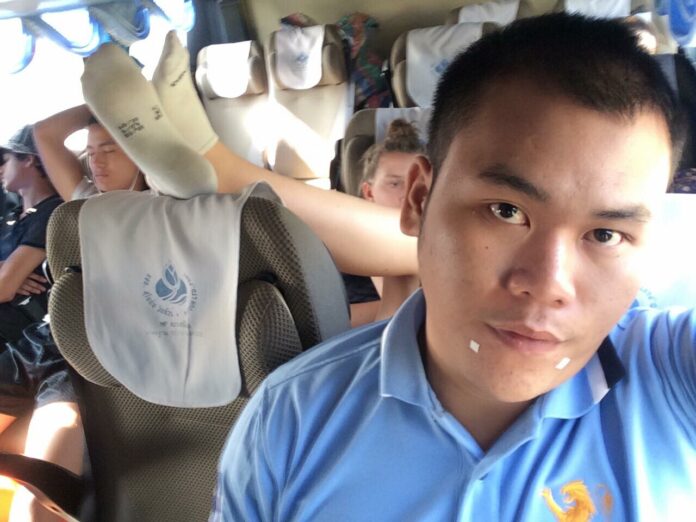 BANGKOK — The peeved protagonist who appeared in a viral clip battling an unidentified woman's funky feet spoke out Wednesday about his motivations for going public with his stinking ordeal.
"I didn't know this story would become this famous," 21-year-old paramilitary recruit Narong Thaopanya said, laughing. "I just want foreign tourists to hopefully do less of this and show some manners. It especially looks bad when a woman does it."
Narong said it all began when he left Bangkok on a morning van to his hometown of Sukhothai. It was there he encountered the fetid feet smelled 'round the van – feet he would launch into social media infamy.
It was hot in the van, and the unidentified woman's toe bouquet was really stinking up the interior.
She had perched them next to his head and refused to put them down when he asked. So he filmed it, hit the share button and – boom! – instant viral sensation.
Narong said he "wasn't mad" when he filmed it, he just wanted the public to know that putting stinky feet by someone's head isn't cool.
In the clip, Narong can be seen asking the brunette woman to put her feet down and wagging his shame finger at her. While she momentarily complies, she pops her dogs right back up a second later.
"She should've respected the space, both my personal space and Thailand," Narong said.
In his March 30 post, which later went viral, Narong took a balanced approach in factoring the disparity between the woman's attractiveness and etiquette in his restraint from using force:
"She was pretty but her manners were awful," he wrote. "What if you took off your shoes overseas and your feet stink up the entire vehicle? Oh my goodness, I don't even wanna talk about the smell … if you were a man, I'd have knocked you off your seat. You're a woman, so I didn't do anything."
Most netizens seemed agree on the central issue. According to a poll on the Telegraph asking if her behavior was acceptable, 99 percent of respondents chose ""No! Her behavior is rude and arrogant."
Some suggested fighting foul with foul.
"You should have sat behind her and put your foot over her seat. Maybe then she would have understood what you were going through," Facebook user Reshma Raju wrote.