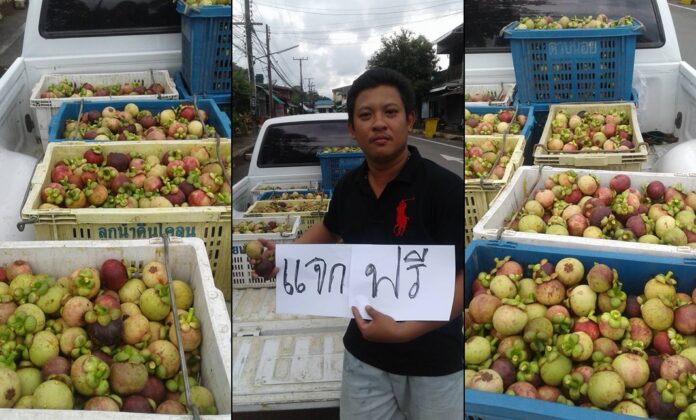 TRAT — Farmers on Wedneday gave away 100 kilograms of mangosteens for free in order to protest low prices of the summer fruit in eastern Thailand.
After mangosteen prices fell to six baht per kilogram, farmers in Bo Rai district in Trat province parked a truckful of mangosteens by the side of a road holding up a "Free" sign and gave away their produce to passersby.
More than 30 mangosteen Trat farmers marched to Trat City Hall on Tuesday morning to petition for help with the low fruit prices. One farmer, Thanin Yingsakul, said that the sudden dip in prices was due to middlemen taking advantage of the long holiday – and lack of laborers to sort the mangosteens.
"The middlemen only buy a kilo for six to 10 baht, when we have to pay five baht per kilo," Thanin said.
"At the moment, the price of mangosteens is every low. The price that can support farmers is around 20 to 30 baht per kilo, where we can make some profit." said farmer Rujira Taweerat.
Pratan Surakitbuan, deputy governor of Trat province, said Tuesday that the local government would offer to buy the mangosteens at a higher price.
During pineapple season in March, farmers in Prachuap Khiri Khan were also pushed to give away pineapples due to factories not buying them. Mangosteen season roughly lasts from May through September.
Related stories: