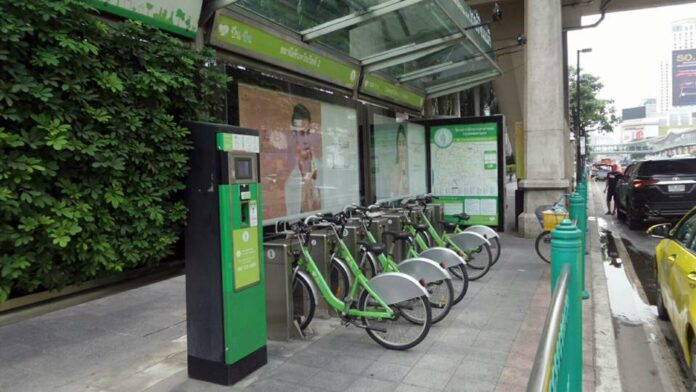 BANGKOK — Abandoned taxi-calling stations will be transformed into bike-sharing stations, said the governor Monday.
Thousands of bikes and more than 100 new stands are coming to the Pun Pun Bike Share system starting in December. A private company is supplying the bikes and City Hall is giving over little-used taxi stands from its failed "Genius Taxi" program to be used as bicycle stands.
"The 150 Genius Taxi stations across Bangkok will also be turned into modern, beautiful bike stands," Bangkok Gov. Aswin Kwanmuang said Monday.
Genius Taxi was a 30 million baht program launched in 2005 under Gov. Apirak Gosayothin. Before it died out in 2014, it consisted of 462 taxis and 150 stations around Bangkok where people could, in theory, call a taxi using a call-button service. The system never took off with commuters; in fact, it was hardly used. The city let the contract with its private operator lapse three years ago.
Aswin says the bike share program will benefit from its failure. Existing bikes will be repainted and refitted by the end of December. Also that month, City Hall will add 1,000 new bikes outfitted with locks and QR codes for users to scan and connect to with their smartphones.
Finally, the public bike share program will be supplemented by a private company which will provide 10,000 bikes and an online registration system at an unspecified future date.
The Pun Pun Bike Share launched in 2012. It currently has 500 bikes in circulation and 50 stations in the central business district along Silom, Ratchadamri, lower Sathorn and Rama I roads. It has about 9,000 registered members, according to City Hall.