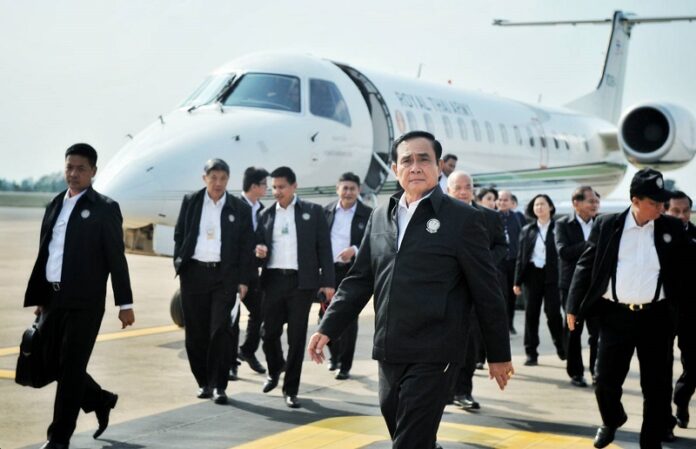 BANGKOK — Although the details of who's in and out in the cabinet reshuffle have yet to be announced, politicians and critics are seeing it as a pivot by the military regime toward elections next year.
Among them is former senior Democrat MP Kraisak Choonhavan, who said Thursday that junta leader and Prime Minister Prayuth Chan-ocha's revamping of his cabinet is a sign that his military government is preparing to compete for votes, and even more, a desperate bid to shore up its flagging popularity.
"It is necessary because its legitimacy is depleting," Kraisak said. "To communicate with the public, you have to go through the media, but they have been battling the press for three years now. Can they really go on?"
Read: Cabinet Reshuffle Pinned on Junta Economic Fails
It's impossible, he added, for the military to extend its power and influence beyond general elections without allies. That's where small- and middle-size political parties come into play.
Among speculation about the latest cabinet reshuffle is the possibility that key members of such parties, such as the Chartthaipattana or Krung Jai Thai parties, could be brought in to join the cabinet.
Dean of Ubon Ratchathani University's political science department, Titipol Phakdeewanich, said the reshuffle is meant to tweak and introduce policies that can attract votes and reverse the sliding popularity of the junta, which calls itself the National Council for Peace and Order.
Titipol said that despite polls suggesting the junta is highly popular, they probably know the reality is different. "It's about creating a comfort zone for themselves and an acknowledgment of its steeply dwindling popularity," he said.
An effective reshuffle could revive its popularity, with the economy being a key concern, the dean said.
Rumors began circulating earlier this month that Prayuth would reconstitute his cabinet for a fourth time since seizing power in 2014. He confirmed Wednesday that the plan had been sent to the king for approval, but did not disclose the details other than to dispute speculation his economic team would be replaced.
All in all, Titipol sees the move as an attempt to pave way for Prayuth to become prime minister again after general elections.
"There's a high likelihood that Prayuth will return as PM [after elections]," he said.
This is the reason why people like former Pheu Thai MP and Redshirt poohbah Weng Tojirakarn wants Prayuth to state publicly that he won't seek the post.
"Does the prime minister dare announce that he won't become PM after the election?" said Weng, who sees the latest reshuffle as an attempt the lift the military government out of unpopularity.
Weng said the current cabinet is largely ineffective, citing the agriculture ministry's failures to shore up prices of basic agricultural products such as rubber. The former MP claims the economic growth the regime boasts about most likely benefits the top 1 percent of the population.
"The feelings of the people are reaching a saturation point, and the NCPO is aware, so it reshuffled the cabinet to avoid reaching a low point," Weng said.
As for the junta's engagement with small and medium-sized political parties, Weng said it's made obvious by Prayuth's recent visits to provinces such as Suphan Buri – a bastion of support for Chartthaipattana. This means the regime is reaching out for allies, Weng believes.
"They will likely join hands with these parties, and there may be no need to set up their own army party," Weng said.
Read: 'Junta Party' Leader Says He Isn't, Critic Says He Is
To democracy activist Rangsiman Rome, the major reshuffle is testament to the inefficacy of the military government.
"They probably think what should be done to make the government more effective. They probably are thinking about elections already. If there weren't elections [next year], there probably would be no need for such a major reshuffle. It's likely that there will be," he said, adding that there is still uncertainty whether elections will definitely take place as currently set for next November.
Making his case for the reshuffle on Wednesday, Prayuth said it is intended to make his government more agile and ensure "optimal effectiveness."
Rangsiman said people expect the economy to improve. As for the speculation that some members of small- and middle-sized parties could be brought on board, he said those parties are easier to deal with compared to the dominant Democrat and Pheu Thai parties.