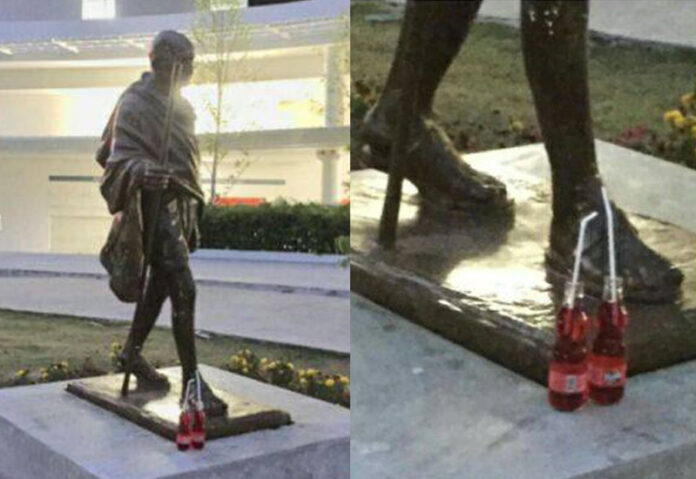 PATHUM THANI — Should the slain leader of India's independence movement be offered bottles of red Fanta to appease his spirit of civil disobedience? Probably not, a professor said Monday.
After offerings of Fanta were found in front of the statue of Mahatma Gandhi at the Mahatma Gandhi Institute at Bangkok's Rangsit University, a professor was left scratching his head at the gesture.
"The university built the Gandhi Institute and a statue of Gandhi to honor him, and suddenly this is placed in front of it. What do they see Gandhi as, I wonder?" Sinchai Chaojaroenrat, a religious studies lecturer at Rangsit University wrote on his Facebook profile.
Read: The Giant At Suvarnabhumi Doesn't Want Your Fanta
Sinchai's post has garnered some humorous comments from netizens.
"Why didn't they offer him salt instead? Didn't he do a long march to protest British salt production?" Facebook user Palsan Ngerndee commented.
No one has stepped forward yet to claim responsibility for so honoring the statue.
The Mahatma Gandhi Institute was established in October, with the Gandhi statue unveiled by Indian ambassador Bhagwant Singh Bishnoi.
According to local animist beliefs, offerings of food – especially red Fanta – appease spirits. In December, aviation authorities asked people not to leave Fanta offerings by the statue of the giant at Suvarnabhumi Airport.
Related stories: