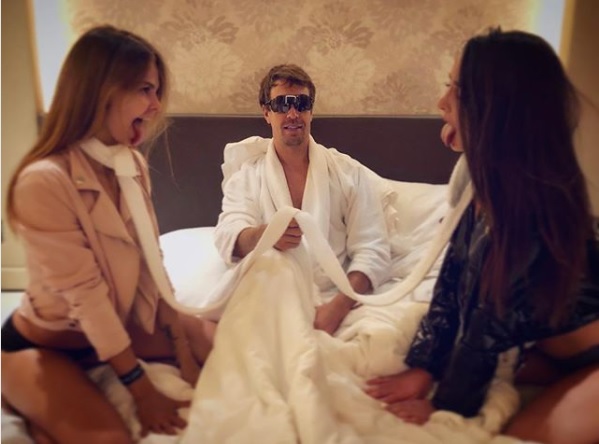 PATTAYA — The climax of what was billed as advanced sex training by a group of instructors led by a Russian "sex guru" was prematurely interrupted by police Sunday.
The courses were run by a Russian named Alex Lesley, who has made headlines back home for vowing to challenge President Vladimir Putin. His classes involved demonstrations with two female models: his wife and another woman recently outed as the mistress of a Putin oligarch ally, prompting Russia to threaten a ban of YouTube.
Update: Khaosod English Exclusive: Russians in Thai Jail Offer Secrets on Trump Election
Cops raided their session at a hotel in central Pattaya on a tip from a Russian police informant, according to Special Branch officer Dullayapat Techapornyasin.
Lt. Col. Dullayapat said the informant shared video clips from inside a session that he said came from an unhappy "student" who felt the RUB40,000 (22,400 baht) lessons were not worth it.
"There were two women. They are models. They did things…. Let's say if the video got out, the public would not be able to accept it," Dullayapat said when asked to describe the footage. "They were in an obscene manner. In some parts, the lower parts of their bodies could be seen."
In other videos posted online, Lesley's training appears to involve using lashes to spank women as they lie on their stomachs.
A livestream video of the raid shows the moment plainclothes police led by Dullayapat walked into the room and confiscated mobile phones.
When a man who was filming asked the officer what was happening, Dullayapat told him to hand over his phone and said, "I have you now, okay?"
Dullayapat, who was uncomfortable discussing the "demonstrations," declined to say what the two women were teaching or imitating to the group of 43 students, but added that no intercourse took place.
"But that's based on what I saw. I didn't see the whole session," he added.
The Russians remained in the custody of Pattaya police Monday evening.
Алекс Лесли и Настя Рыбка арестован в Таиланде за секс-тренинг. https://t.co/nUJc3JcFku

Депортируют ли их в Россию и по какой статье им сфабрикуют уголовное дело? pic.twitter.com/W8LnvsA2EX

— Грани.Ру (@GraniTweet) February 26, 2018
The course was taught daily in meeting rooms at the hotel Feb. 19 through Sunday. An arrest report seen by Khaosod English identified it as the Ibis Pattaya.
The program was run by Lesley, whose real name is Alexander Kirillov and reportedly holds Russian and Belorussian nationalities.
A team of Russians assisted him, including Anastasia Vashukevich, a woman known online as Nastya Rybka who identifies herself as an "oligarch huntress." She is the subject of a Feb. 8 video by Russian opposition leader Alexei Navalny about her affair on a 2016 yacht trip with oligarch and Putin ally Oleg Deripaska, according to Daily Beast. Russia is threatening to ban YouTube and Instagram if the photos and videos, which also claim a Russian deputy prime minister was on the yacht, are not removed.
The unidentified victim who contacted Pattaya police told them the 40,000-baht lessons "did not make them happy," and the raid took place last night just as the courses were about to conclude.
"At first there were communication problems," Dullayapat said of the raid. "But we brought in an interpreter. And in the end we understood each other. They were polite to us."
All 10 instructors were charged with working without permits, including the model, who was charged for overstaying her visa, he said.
Lesley, the self-styled sexpert, routinely promotes his courses on his Instagram, where he has about 37,000 followers. He's an author of several books including one called "Life Without Panties."
"After reading this book, your views on life will change and you will understand that you have the potential to attract any girl, ANYWHERE," the blurb of the book reads on Amazon.com.
Last year Lesley announced he would contest Russian president Vladimir Putin in this year's election. More recently, he claimed earlier this month to have trained an escort filmed having sex with oligarch Oleg Deripaska, according to British tabloid Daily Mail. Russia has threatened to ban YouTube and Instagram if the videos are not removed.
Lesley's campaign slogan is reported to be "A country led by a military man will fight. A country, led by a scientist, will develop. A country that is run by a sex guru will multiply!"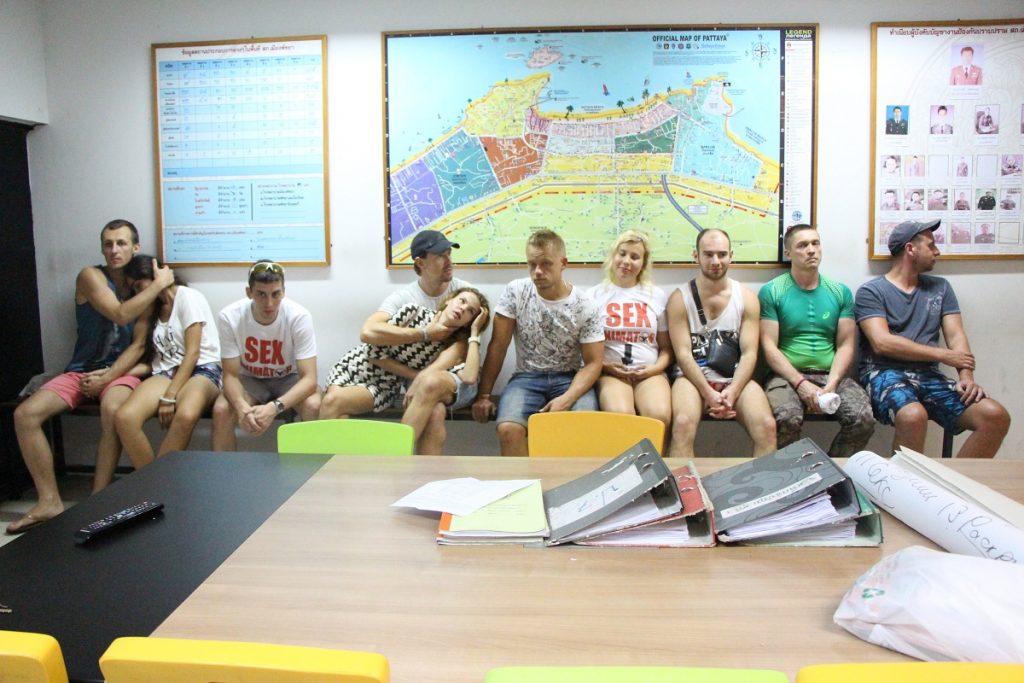 Update: This story has been updated with information from the police report about an unidentified Russian police informant's role in tipping off Pattaya police. Alex Lesley's real name has also been updated. 
Corrections: An earlier version of this story identified the venue of the class as being on Ko Lan, an island just off the coast from Pattaya. In fact it was the Ibis Pattaya. The class was held in its Ko Lan meeting room. Although the police said the course was 40,000 baht, an online signup form shows it was 40,000 Russian rubles, which is the equivalent of 22,400 baht.