BANGKOK — Shadows of the past stalked the table where the new-blood princes of Thailand's political future assembled Wednesday night.
There was the middle-aged party scion locked in tight orbit of his towering late father. Next to him, the great young hope whose promise to revolutionize the nation's oldest party echoed the unrealized promises of its last "golden boy." To his left, representing a party whose ballot box ownage has twice been combat-booted from power, a man with a rank before his name who avoided the word "Thaksin" despite dutifully reciting his mantras.
The wildcard and main attraction at the Foreign Correspondents' Club of Thailand was the billionaire founder of a new party who has captured progressive imaginations and consumed all the political reporting oxygen.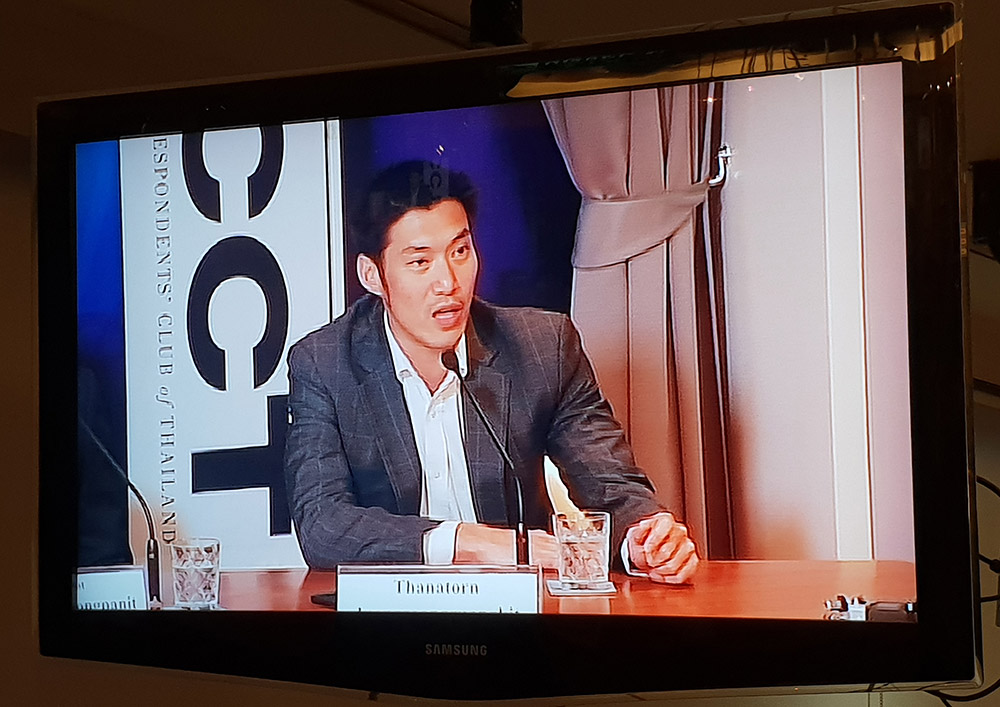 Speaking in English before an audience less familiar with his Bruce Wayne image of extreme sports, extreme wealth and concern for the downtrodden, Thanathorn Juangroongruangkit was either confident or cavalier that his aims will resonate with a silent majority: Neuter the armed forces, empower reformed institutions and put the public back in control.
"Once this government goes back to the barracks, we want to make sure they don't come back out to seize power again," he said.
Thanathorn exhorted his rivals to unite as allies after Election Day to recruit public help to write a new constitution that would clip the military's wings.
"We need to change the constitution to make sure the military power is reduced after this," he said.
But his "new future" is also haunted by the past he promises a break with, one so polarized to present a chasm for expanding his appeal.
Thanathorn, 39, wants to be the middle-way alternative for those seeking a break from that past, whether its reformist-minded progressives or the moderate who demanded a break from a decade-plus of Thaksinism. Until recently, Thanathorn was on the board of Matichon Group, the parent company of Khaosod English.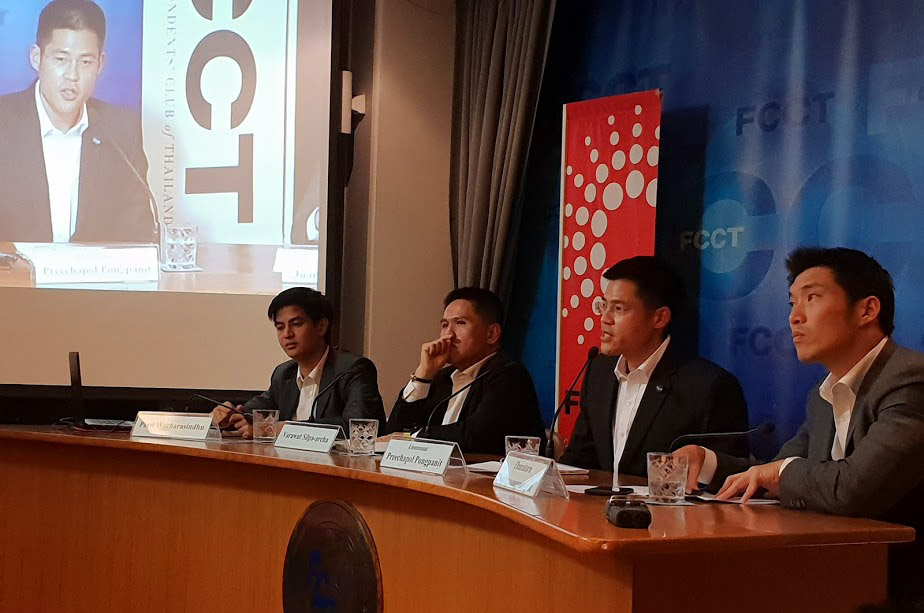 His emphasis Wednesday night was on peeling away Pheu Thai votes and making inroads with the disaffected middle class whose resentments were harnessed four years ago to drive Pheu Thai from power.
"I totally understand their frustration with corruption," he said. "But what we need is more democracy, not less democracy."
Not that Pheu Thai should be counted out. Despite four years of active junta attempts to uproot its influence, it still runs deep, if battered.
Creative thinking, knowledge development and technology – the pillars of Thaksinist innovation – were on the lips of Lt. Preechapol Pongpanit, a 37-year-old former Khon Kaen MP who skirted mention of Thaksin Shinawatra, his party's de-facto leader a dozen years removed by military intervention.
Warning of Thailand's retreat from a world that is advancing, Preechapol played best hits from the Pheu Thai back catalog with multi-point plans to rework education, the economy and, of course, OTOP. Though he made the least splash of the lot, Preechapol succeeded in presenting optimism and depth in the face of Thanatorn's insurgency, while affirming Pheu Thai's democratic bonafides if not dispelling its Cult-of-Shinawatra past.
But representing a party on the receiving end of two coups, he was more reticent to challenge the military, noting the post-election reality faced "a lot of traps in this constitution."
Looking wistfully backward was Varawut Silpa-archa, the 44-year-old scion of a political institution his father joined when he was a toddler. Varawut, a deputy transport minister under the Democrat government of Abhisit Vejjajiva, pined time and again for his father's time, when political rivals drank together as furiously as they debated in parliament.
As for the state of things today, he placed blame squarely at the feet of the political class.
"There's disagreement, and all this politico mumbo-jumbo is why the military has stayed in power," he said, adding that he prefered incremental change to the radical type pursued by Thanatorn.
Though he declared for electoral politics, he did betray a strain of elitism toward voters by assigning blame for the "low quality" of Thailand's politicians on an electorate that is "90 percent farmers" who are "uneducated."
In case Thailand's future did not look sufficiently male, wealthy and well-connected, the quartet at the press club was rounded out by the fresh face from the oldest political dynasty who all but stole the show.
"I cannot change how I look, and I cannot change the family I was born into," 25-year-old Parit Wacharasindhu said, presenting himself as the reluctant heir to the Democrat Party and apologizing for its past sins.
His through-line was repeatedly declaring himself a New Democrat committed to bringing "the Democrat Party back to the principles on which it was founded."
As earnest as he is youthful, Parit, better known as Ice Cream or I-teem in the Thai styling of it, said he only came to embrace the party after being convinced it could be remade anew.
Four years after the Democrats encouraged a faction's campaign to sabotage elections by physically preventing voters from entering polling stations, he was attuned to skepticism about the party's fidelity to "small-d democracy."
"Many actions of the old Democrat Party," he said, cause people to doubt it's commitment to "the principles of democracy."
Clearly reveling in his looks and charms, Parit's declarations came close to humble-bragging:
"Not only am I the newest to politics and the newest to Thailand, I'm the newest to the world."
The problem with his claim to novelty is the deja vu it provokes for anyone remembering the same declarations made by the uncle he shares an uncanny resemblance with: party chairman Abhisit Vejjajiva, who led the government for three years between two popularly elected Shinawatra administrations.
Like Abhisit, he promised to apply Oxford sportsmanship to reinventing the moribund Democrats. That debate club zeal provided some of the rare sparks of the evening, such as when he said Waravut's Chat Thai Pattana Party's ideology seemed to consist of "being in government."
Parit tested the same pragmatism that saw his uncle's promise compromised and ultimately stained by ordering a military operation to clear the streets of political rivals at bloody cost in 2010.
New Democrat or not, the party has 72 years of history, and the status quo is its power base.
Where Thanathorn's challenge has invited the wrath of the old guard, Parit said he would respect it.
"We cannot present our new generation as being in confrontation with the old generation," he said. "Whatever changes we propose, we must be conscious of the preferences of the old generation and accommodate [them]."
Thanathorn took the swipe in stride, later saying that attempts to reform Thailand's institutions – the Democrat Party included – were likely to be met by coups d'etat.
Wednesday night's well-attended event drew an audience of 260 people, according to the club.
Related stories:
Pheu Thai Reunion Sees Loyalty Shows, Leadership Doubts
Shows of Loyalty, Leadership Doubts at Pheu Thai Reunion
Prayuth Blasts Abhisit's Refusal to Support Him as PM
New Party Wants to Discard Old Politics, But Can It Win Elections?
Democrats Can't Support Prayuth as PM, Abhisit Says
Activist Undeterred By Fresh Protest Charges
Cracks Appear in Post-Yingluck Pheu Thai Party
Thanathorn Unveils 'Future Forward Party,' Pledges Fresh Beginning