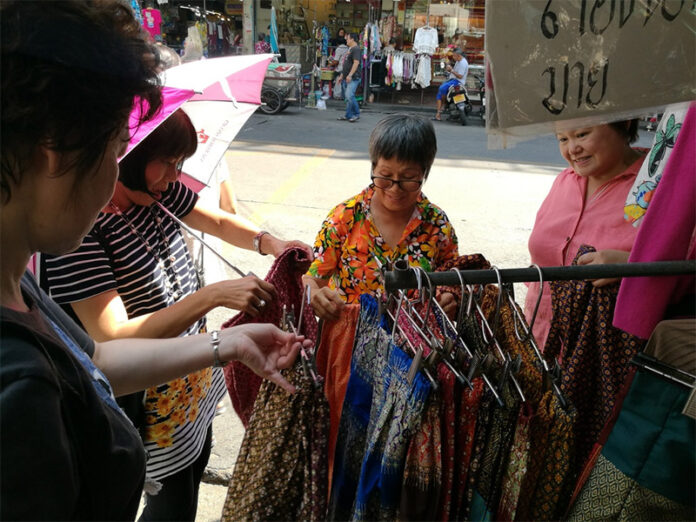 BANGKOK — On the eve of the first day of Songkran, clothing sellers said the raging fad for traditional attire would likely fade with the popular soap opera that inspired it.
A day after Karakade and her Ayutthayan-era husband sailed into the happily-ever-after in the final episode of hit soap "Bupphesaniwat," hawkers in Bangkok's old quarter said the peak moment has already passed for fabrics printed with laay thai grids of spades.
"It's already not selling well now that the soap is finished. Once I'm done with this lot of cloth, I won't be selling it anymore," said Orasa Sae Jong, a vendor in Banglamphu, an area famous for affordable clothing.
The hottest item has been ready-made jong krabaen, a knee-length garment adapted into knee-length trousers.
Orasa said the rise of the fad was matched with higher costs for the goods from manufacturers and wholesalers that won't be able to command premium prices any longer.
"Things change seasonally. The price is going down now," said Orasa, who had just sold a four jong krabaen at 300 baht each.
A minute's walk away, nearly identical apparel was sold at another shop, Mae Bee.
Pratana Tonpongphan, one of its owners, was selling low-priced pajamas before hitching onto the trend by dedicating a corner for the now-ubiquitous jong krabaen.
Asked if she thought the trend could last, Pratana replied: "We have expectations, but we don't know what will happen."
At 280 baht a pop, Pratana said she will continue to sell the items as long as the fad persists and hopes the government can do more to continue promoting interest in traditional clothes.
Not all sellers in Banglumphu were dove in, however.
At Lucky Shop, a woman seller who goes only by Bua said her shop didn't even bother to order the items because she expected the fad to be very ephemeral.
Her prediction?
"Thais are just faddish. Once the soap is over, it's over," Bua said.
At least for now – due to the soap's unexpected popularity, Channel 3 TV is planning a sequel, backed by 400 million baht from the military government.