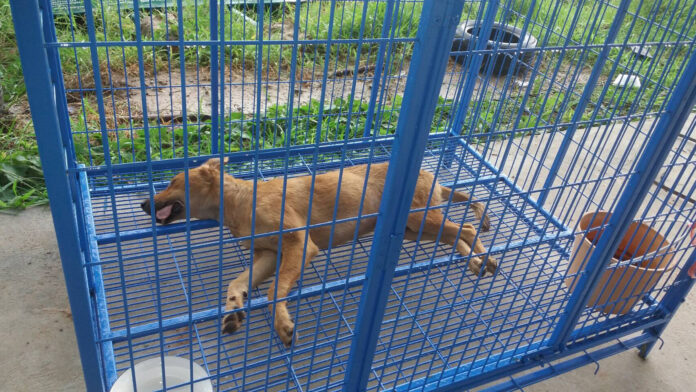 KORAT — An animal rights group Friday accused livestock officials in Nakhon Ratchasima of intentionally giving dogs fatal overdoses in violation of their own policy.
Watchdog Thailand representatives filed a criminal complaint alleging that local officials used a loophole in recently announced rabies-control measures as an excuse to kill animals despite being instructed to first quarantine and observe the animals for symptoms.
The updated measures from the Livestock Department authorized taking animals suspected of being rabid into quarantine and euthanizing them "if necessary" without further deliberation after observation of illness.
The head of a local public health volunteer group, assigned by the livestock office to help implement the measures, said the administrators informed residents about the measures on Wednesday. They later tried to sedate two dogs suspected of having the disease to collect samples and take them into quarantine, although the owner of one said it had already been vaccinated.
"Livestock officials brought a sedative to mix with the dog food," Pacharin Thaichaturat said. "The dogs didn't eat much and wouldn't pass out, so they shot them with another dose of sedative, which turned out to be too much."
The dogs died Thursday.
Wunrerk Traitharntipvikul, a Watchdog representative, said Ratchapoom Kiaosanam, the top provincial animal health official, admitted that he suggested giving higher doses of drugs to ensure the dogs would be sedated.
He insisted that it wasn't meant to be fatal but said he had negligently recommended the amount of drugs he was "accustomed to" without checking the animals' conditions first.
The dogs received three sedatives each. One, a drug used to prevent seizures fatal in high doses, was given to them more than seven times higher than the normal dose, Wunrerk said.
Livestock Director General Sorravis Thaneto acknowledged the "malpractice" and promised to tighten up inspections to prevent such incidents from happening again.
Watchdog said Ratchapoom will initially be probed by the national veterinarian council to see if he should be disciplined, while police will continue with the criminal investigation to determine whether he intended to kill the dogs.
Livestock has been under fire for its handling of a rabies false alarm earlier this year in which thousands of dogs were rounded up and shipped off to quarantine facilities.
Last week, the Phuket-based Soi Dog Foundation blew the whistle on a facility in Nakhon Phanom where thousands of dogs are suspected of dying from negligence, starvation and disease.
Livestock officials said things were not as bad as presented by the foundation, though a mass dog grave was found outside the facility by a reporter.