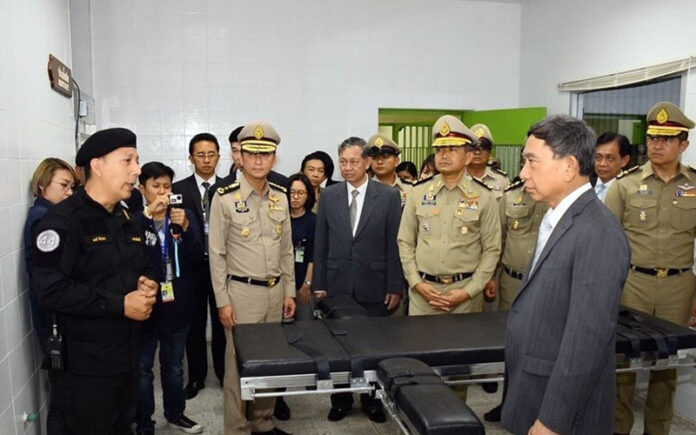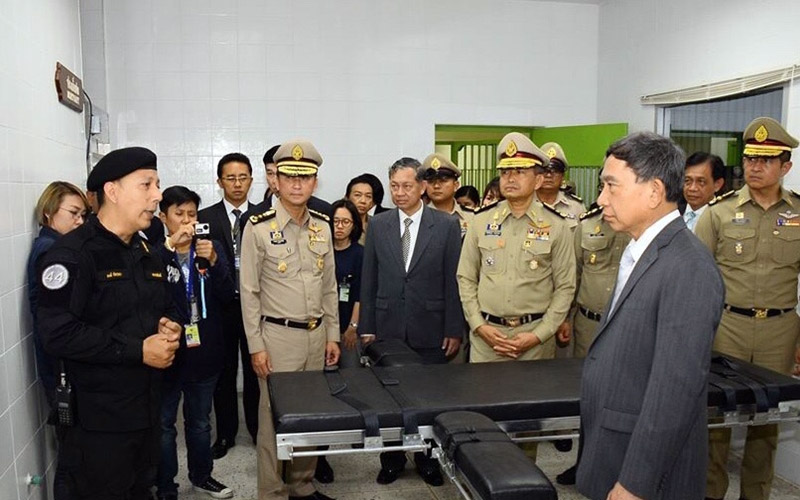 BANGKOK — Death penalty opponents were caught by surprise by Thailand's first execution in nine years Monday night while officials are offering no explanation.
After 26-year-old Teerasak Longji was executed at Bangkok's Bang Kwang Central Prison by lethal injection for aggravated murder, the leading group calling for abolition of capital punishment said Tuesday it deplored the decision and had no idea why the unexpected execution occurred now.
"We are not sure," Amnesty International Thailand Director Piyanut Kotsan said Tuesday morning when asked about the timing.
Read: 8 Years Since Last Thai Execution, Future of Death Penalty Uncertain
Piyanut said Amnesty was not in the loop despite years of discussions with the Justice Ministry. She said her understanding was that Thailand has committed to becoming an abolitionist state as reflected in its master plan for human rights.
The last execution occurred in 2009 when two men were put to death for drug-related crimes. This past October, the head of the government's human rights agency signaled the death penalty, which had been in de facto moratorium since 2009, would eventually be abolished.
"I can't say when it will end but in practice it will soon be 10 years since no execution has taken place," Pitikan Sitthidej said in October. "We don't know when the death penalty will be abolished."
Amnesty Thai director Piyanut said that standard practice for the last resort of clemency has been to obtain a royal pardon commuting death to life in prison. She said it's unclear whether a royal pardon had been sought by Teerasak, who six years ago stabbed a 17-year-old high school student 24 times to steal his smartphone and wallet in Trang province.
Corrections Department chief Narat Savettan declined to comment Tuesday on the circumstances.
"I cannot give any comment about this," he said, adding that the department would not issue any further statement on the matter.
A statement from Narat released Monday shed new light on why an execution had taken place after nine years. The last paragraph of the statement stated hope the execution would serve as deterrence.
"It is hoped that this execution will give pause to those thinking of committing heinous crimes or violating the law to consider the penalty," it read.
The statement also pointed out that since the introduction of modern execution in 1935, 325 executions have taken place.
Someone who answered the phone at Bang Kwang Prison said its director, Sophon Yimpreecha was out for a meeting and could not be immediately reached.
Amnesty Thailand issued a statement Monday saying execution is deplorable and will not reduce crime.
"This is a deplorable violation of the right to life. Thailand is shockingly reneging on its own commitment to move towards abolition of the death penalty and the protection of the right to life, and is also putting itself out of step with the current global shift away from capital punishment," wrote Katherine Gerson, an Amnesty campaigner in Thailand.
According to Amnesty Thailand, 510 people were on death row as of the end of 2017, 94 of which were women. The number of those who have exhausted all final appeals is 193.
Gerson wrote that there is no evidence that the death penalty has any unique deterrent effect, "so the Thai authorities' hopes that this move will reduce crime is deeply misguided."
Kingsley Abbot, senior legal advisor for the Geneva-based International Commission of Jurists, tweeted on Monday that execution is never justifiable and "flies in the face of Thailand's repeated commitments on the international to work towards abolition."
Amnesty announced it will hold a demonstration outside Bang Kwang at 2pm this afternoon.
#Thailand has reportedly just executed a man for murder; its first execution since 2009.

If confirmed, this act, which is never justifiable, flies in the face of Thailand's repeated commitments on the intl. stage to work towards abolition | @ICJ_orghttps://t.co/U8PRd01rW4 pic.twitter.com/QR2DoEynGj

— Kingsley Abbott (@AbbottKingsley) June 18, 2018
Additional reporting Teeranai Charuvastra, Jintamas Saksornchai
Related stories:
Prison Officials Carry Out First Execution in 9 Years
8 Years Since Last Thai Execution, Future of Death Penalty Uncertain
iPhone Killer Gets Death Sentence
Thailand Death Sentences Increase, China Tops List, Report Says
Murder and Rape Reignites Death Penalty Campaign
Thai Govt 'Willing' To Abolish Death Penalty: Official
Train Rapist & Murderer Sentenced to Death
Editorial: Death Penalty Is Not The Solution To Rape