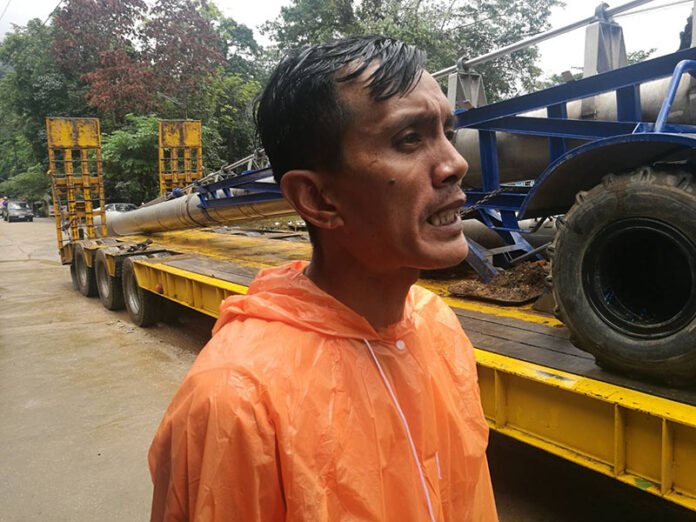 By Chayanit Itthipongmaetee and Pravit Rojanaphruk
CHIANG RAI — It's time for the many tireless volunteers to pack up after a successful international effort rescued 13 people trapped inside the Luang cave for over two weeks.
Thawatchai Fuengkachorn, leader of the Great Naga Water Pump team, longs for a good long sleep after 12 days spent supervising massive water pumps that ran 24/7 to keep water levels in the cave from reaching a dangerous level.
"Our hearts drew us here. Twenty of us leave today. I'm happy that they are safe," Thawatchai, 42, said Wednesday. "One day I hope to come back and visit the kids."
Read: 'Impossible' Cave Rescue Ends With No One Left Behind
"I'm proud we helped the kids. Didn't sleep well but will sleep once I get back home," he added.
From Chiang Rai, it's a 12-hour ride back to Nakhon Pathom in western metro Bangkok, said the man with a look of exhausted satisfaction.
After loading his water pump to return home after the rescue operation completed Tuesday, Thawatchai stopped a kilometer away from the cave to clean three of his four 18-meter-long water pipes.
The pump is privately owned and normally used for shrimp farming, where they charge charge 1,000 baht per hour of use. Their 12-day, non-stop effort was provided free of charge. Thawatchai said his team did receive some donations.
The team is from Nakhon Pathom province and has been hailed as heroes by local residents and in the Thai press as their effort is considered to have been vital in keeping the 13 from drowning.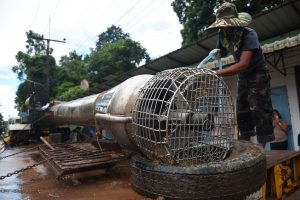 When asked lesson did he learn, Thawatchai paused a while.
"Everyone had their lessons, but it's friendship that we enjoyed," Thawatchai said.
Asked if the convey of four long trucks would be accompanied by police cars to facilitate their trip out of Chiang Rai, the Thawatchai said he had no clue. Though not expecting any special treatment, two highway police vehicles soon arrived shortly before 1pm and led them out. No ceremony or photo op was staged for their departure, but jubilant onlookers along the route cheered and clapped Thawatchai and his team as their convoy sped away from Chiang Rai's Mae Sai district, their work complete.