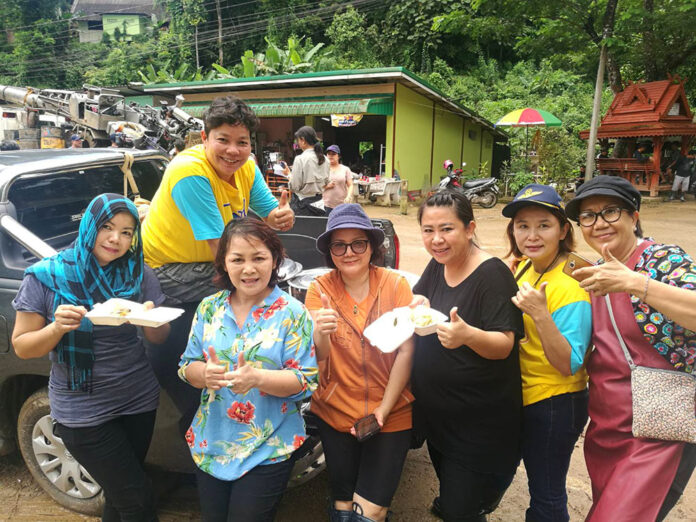 CHIANG RAI — As they say, an army moves on its stomach.
Indispensable to the legions of volunteers who helped deliver 13 people from a flooded Chiang Rai cave were the kitchens keeping them supplied around the clock with free food and drinks. After over two weeks preparing fresh food for all takers, they finally began breaking things down Thursday to leave the site.
Chayanuch Kantayong, 52, was among those who indiscriminately fed people involved in the rescue mission to evacuate 12 boys and their football coach from the Luang Nang Non cave, which concluded Tuesday after an ordeal spanning 18 days.
"I'm happy that I had the opportunity to help with fresh and delicious food," said Chayanuch, a florist by trade in the local district of Mae Sai, where the cave is located. "They are helping us, so we must help them."
Read: First Look at Rescued Cave Boys in Recovery (Video)
Chayanuch and six friends provided three daily meals for upward of 600 people during the 17-day rescue effort.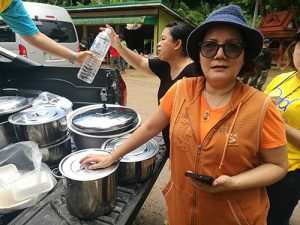 Delivering food Wednesday from the back of a pickup truck parked a kilometer from the cave, she continued to feed soldiers, volunteers and the odd reporter who had come down the mountain in need of sustenance. This was separate from the press center operation down the road, where the Chiang Rai Chefs Association and others operated busy kitchens.
A soldier who rode up on a motorcycle at about noon Wednesday attested to this reporter that the food there was indeed excellent.
The specialty for lunch that day was salmon head tom yum soup.
Chanyanuch, the main cook, said she and her friends did not skimp on the ingredients, as they wanted to make rescuers as happy as possible.
Cooking for the masses isn't new to them. Chanyanuch and her fellow volunteers don't own a restaurant, instead they usually run a soup kitchen for the needy. More than 200,000 baht was spent for the rescue effort, funded by a 100-strong local women's volunteer group, which counts some mothers of the rescued boys as members.
Chanyanuch didn't think others should thank them for providing the food.
"I am impressed with all the groups involved. I saw them doing their utmost, and I must thank all units," she said, as the group posed for a souvenir photo.
Related stories:
Their Mission Complete, Cave Heroes Head Home