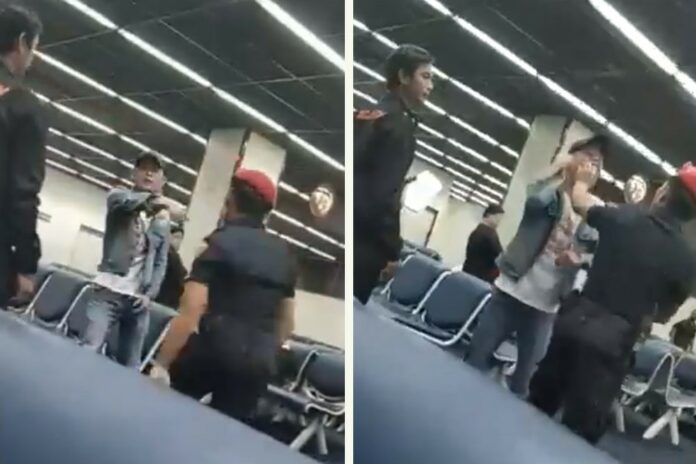 BANGKOK — The president of the national airport regulator said top Don Mueang airport officials had been suspended Sunday after a security guard was filmed assaulting a Chinese tourist.
Nitinai Sirismatthakarn of the Airports of Thailand said the airport's general manager and security chief received a 30-day suspension over last week's incident, and that the guard is under an investigation that could cost him his job.
"It was an unnecessary act of violence," he said. "Airport staff should not harm a passenger under any circumstance."
He added that the results are expected in two weeks, and that the department would send an apology letter directly to the Chinese embassy on Monday.
The news spread Saturday on Thai media after a Facebook page which reports illegal activities by tour guides posted a video clip showing a man in security uniform throwing his fist at a Chinese-speaking man.
"A source in WeChat sent me this, saying that today a Don Mueang airport officer slapped a Chinese tourist in the face," the admin wrote. "The clip was published in China and has been shared like millions of times."
The post claimed the tourist was assaulted for refusing to pay an "extra service fee" to an immigration officer on top of what he had to pay for a visa on arrival.
It quickly drew the attention of airport authorities. Hours later, the airport's general manager led a press briefing to apologize about the incident but denied that it was triggered by an illegal visa fee.
Wing Commander Suthirawat Suwanawat said the incident took place Thursday night after Thai Lion Air staff requested security personnel to control a hassle caused by the Chinese tourist, identified as Mei Ji.
He said Mei, who flew to Bangkok from Jakarta, was barred from entering the country as he could not present proof of accommodation and showed "inappropriate behavior" toward immigration staff.
Mei allegedly obstructed security personnel who responded to the scene and tried to run away before he was deported to Guangzhou. Suthirawat however acknowledged that the guard reacted in a way that seriously violated airport codes.
"We are deeply sorry about what happened, which negatively impacted Thailand's reputation," he said, adding that the airport would compensate Mei for damages.
Suthirawat then said he would request for his suspension, adding that he would travel to China to apologize to the victim in person.
Police Maj. Gen. Surachet Hakpan, a newly appointed immigration bureau commander, said he has received complaints that some staff have wrongly collected additional money from Chinese tourists by claiming to help fast track their visa applications. He said today that he put up a sign at the airport saying there's no extra service fee to the visa.