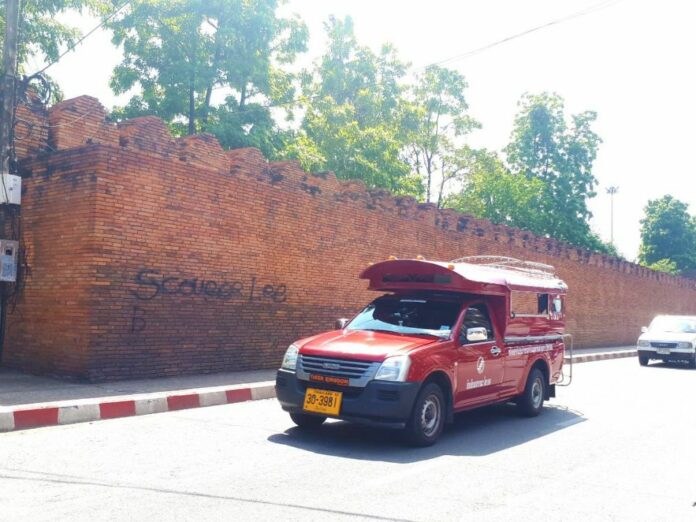 CHIANG MAI — A Briton and Canadian face 10 years in prison and a 1 million baht fine for tagging an ancient, historical wall in Chiang Mai.
British man Lee Furlong and Canadian national Brittney Lorretta Katherine Schneider, both 23, were arrested Thursday afternoon on suspicion of spray-painting a portion of the city's Tha Phae Gate.
Security camera from a nearby cafe shows four foreigners approaching the site at about 4am on Thursday. Two of them approach the wall and one begins to spray it. Apparently realizing it was misspelled, the vandal returns to fix it to say "Scouser Lee B."
"Scouser" is British slang for a Liverpool native.
Furlong told police he and the group were drunk and walking back to their guesthouses. Along the way he saw a spray can on the ground so he picked it up and looked for something to paint.
Col. Teerasak Sriprasert, chief of Chiang Mai police, said the two under arrest could be jailed for 10 years and fined 1 million baht. Though what they are accused of amounts to vandalism, he said a heavy penalty must be imposed as they desecrated a historical site highly valued by the public.
Police are looking for the other two foreigners who were at the scene.
Tha Phae Gate dates back to 1296 and the reign of King Mengrai, who founded the Lanna kingdom which later became Chiang Mai. The gate and wall today are modern reproductions erected in 1985 from an old photograph of the gate from 1899.