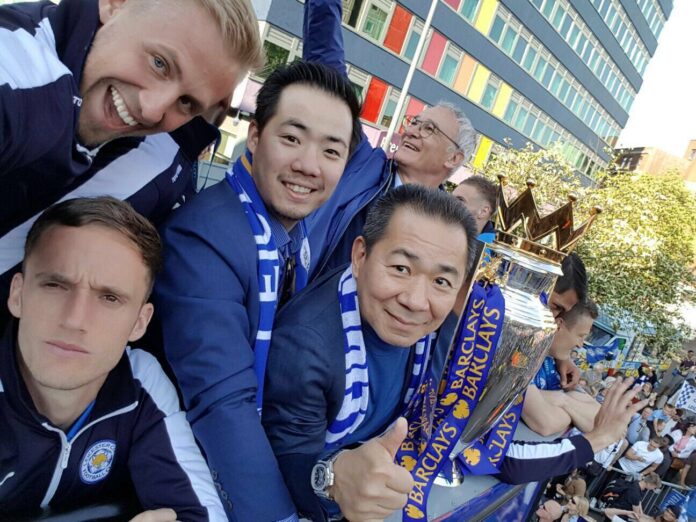 LEICESTER, England — From Leicester to Bangkok and all over the internet, fans Monday were mourning the death of the billionaire football club owner who died in a helicopter crash.
Vichai Srivaddhanaprabha's death triggered an outpouring of tributes and grief less for the duty-free monopoly he built than the city he shepherded to Premier League supremacy.
Crowds gathered Sunday at the King Power Stadium in Leicester, England, spoke of his generous spirit.
A Leicester City football fan named Susan said Vichai and his family "always made a really big effort to take the fans into account. They're always been very kind and generous," referencing donations he made to local hospitals and charities. "They were different because they did exceptional things. They showed us warmth and generosity. They were very gracious and humble."
Unlike other foreign owners of UK clubs, Vichai was widely admired for his attentiveness – not to mention engineering one of football's greatest shockers in recent years when the unlikely team became champions.
Susan said Vichai always attended matches, unlike other club owners who "run the club like a business."
"Everybody that you see here today is here for a very good reason, because they felt that he is part of the Leicester city family," Susan said.
On Twitter, #VichaiSrivaddhanaprabha is trending today in both Thai and English, with football clubs and fans expressing their condolences.
"Everyone at #MUFC is deeply saddened to learn that the Leicester City chairman and four fellow passengers have lost their lives following last night's tragic incident. Our deepest condolences are with their families, friends and those connected to the club," Manchester United tweeted.
Thai professional footballers sponsored by Vichai, including Chanchai Wanchamroen, also gave their condolences, kneeling at a memorial set up outside the stadium.
"When we practice, he comes and watches us and gives us advice too," Chanchai said.
Chanchai said he watched Saturday's match and saw the helicopter go down shortly after it with Vichai aboard.
"I stood there watching. At first I didn't think the helicopter fell. I was so surprised and shocked," Chanchai said.
Meanwhile, at the King Power Complex in Bangkok, reporters were barred from entry and remained camped outside. Late Monday afternoon, the company released a statement that it was grieving his loss.
"The world has lost a good-hearted, generous, merciful person who gave himself to his family, those around him and Thailand, making him loved by everyone," it read. "Under Khun Vichai's leadership, all of us at King Power felt like we were part of his family."
King Power also posted a page for people to leave condolences.
Read: Vichai Srivaddhanaprabha, Triumphed in Football and Business, Dead at 60
Artiwara Kongmalai, better known as rock star and charity runner Toon Bodyslam, credited King Power as his charity's largest corporate supporter to the tune of tens of millions of baht.
"Without the support of Khun Vichai and King Power, many of Kao Kon La Kao's activities would not have begun or ended successfully," Toon wrote online Monday afternoon of his charity that raised millions for insolvent state hospitals.
In 2017, Forbes ranked Vichai the fourth richest person in Thailand with assets totalling 155 billion baht.
King Power became the country's largest duty-free retailer after it was granted a controversial monopoly concession to Suvarnabhumi International Airport by Prime Minister Thaksin Shinawatra in 2004. King Power maintains a monopoly over the entire duty-free market, and has been the subject of legal action alleging it failed to pay billions of baht owed to the government.
In Leicester, he is just the wealthy man who made football dreams come true.
"In Khun Vichai, the world has lost a great man. A man of kindness, of generosity and a man whose life was defined by the love he devoted to his family and those he so successfully led. Leicester City was a family under his leadership," the Leicester City club tweeted at 10pm Sunday local time. "It is as a family that we will grieve his passing and maintain the pursuit of a vision for the Club that is now his legacy."
In Thai media, Vichai was remembered as a jao sua, or tycoon, who cast Thailand in a positive light.
"You are the jao sua that made all the world see the power of Thai people," @Watthanasan tweeted. "You made me proud to be Thai and of Thailand. You showed the world that Thailand and Thai people have good in us."
— Leicester City (@LCFC) October 28, 2018
The deepest condolences and heartfelt thoughts of all at the Premier League go to the Srivaddhanaprabha family and all the relatives and friends of those involved in this tragic accident

Full statement: https://t.co/ZyR9WdQ1LB pic.twitter.com/5eoebuSJ96

— Premier League (@premierleague) October 28, 2018
We are deeply saddened to learn of the deaths of Vichai Srivaddhanaprabha and the other passengers on board the helicopter that left the King Power Stadium last night.

We send our heartfelt condolences to their families and all at @LCFC at this difficult time. pic.twitter.com/r4K4KEtSZa

— Tottenham Hotspur (@SpursOfficial) October 28, 2018
Following the sad confirmation of fatalities in last night's helicopter crash, Manchester City sends its deepest condolences to all at @LCFC.

— Manchester City (@ManCity) October 28, 2018
Everybody at Chelsea Football Club is deeply shocked and saddened to learn of the death of five people at Leicester City on Saturday, including the club's chairman, Vichai Srivaddhanaprabha.

Our thoughts at this sad time are with all those affected. https://t.co/bHmIuHgXiS

— Chelsea FC (@ChelseaFC) October 28, 2018
The thoughts of everyone at #htafc are with our friends and colleagues at @LCFC and with the Srivaddhanaprabha family tonight. (DTS) pic.twitter.com/xMRiddFDUR

— Huddersfield Town (@htafcdotcom) October 28, 2018
The thoughts of everyone at Liverpool Football Club are with Leicester City and those affected by events at the King Power Stadium this evening.

— Liverpool FC (@LFC) October 27, 2018
Everyone at #MUFC is deeply saddened to learn that the Leicester City chairman and four fellow passengers have lost their lives following last night's tragic incident. Our deepest condolences are with their families, friends and those connected to the club.

— Manchester United (@ManUtd) October 28, 2018
We're thinking of you, @LCFC ❤

Our deepest condolences are with the loved ones of those who have so tragically lost their lives, and everyone at #LCFC

— Arsenal FC (@Arsenal) October 28, 2018
Today the world of soccer lost an amazing person, the owner of Leicester City Football Club, the Owner Vichai among others passed away in a helicopter crash… R.I.P Vichai

Very sad day for the world of the Beautiful Game " Soccer " #RIPVichai #VichaiSrivaddhanaprabha pic.twitter.com/t6VXPFz4fX

— (@Jesseduran98_) October 29, 2018
RIP Boss. You were a great person who cared so much about our club, city and everything which came with it. Thank you for enabling us to make our dreams a reality and I hope you were as proud of your club as we were of you. We will miss you pic.twitter.com/Chc2OfFaO2

— Andy King (@AndyKingy) October 28, 2018
No words can describe this chair man how kind of him. I don't want to believe that he has already gone. Rest In Peace We will always remember his virtue. #VichaiSrivaddhanaprabha #LeicesterCity pic.twitter.com/vsFvGK9JUY

— chubby (@zeRfetzt_) October 29, 2018
Related stories:
Vichai Srivaddhanaprabha, Triumphed in Football and Business, Dead at 60