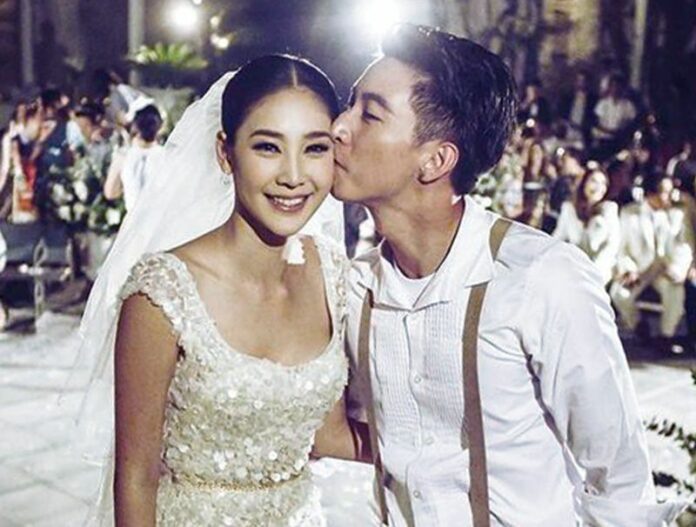 (24 December) Several celebrities have expressed their disagreement over the list of nicknames for celebrities compiled by the Thai Entertainment Media Association.
The list compilation is an annual tradition. The nickname list for 2013 was announced yesterday, handing nicknames to 10 famous actors, actresses, and singers.
Topping the list is ′Tangmo′ Pattaratida Patcharaveerapong, the actress who made the headlines recently by declaring herself as a devoted supporter of the anti-government People′s Committee for Absolute Democracy With the King As Head of State (PCAD).
Ms. Pattaratida earned the nickname "Biting Without Muzzle" (ฝีปากไร้ตะกร้อ); the list compilers said it is a reference to her habit of responding to the press with sharp rhetoric and harshly commenting about her rival celebrities in the public.
Her reputation as a foul-mouthed actress was reinforced by her role in PCAD movements, in which she was quoted as calling former Prime Minister Thaksin Shinawatra a murderer and a corrupt tyrant, and stating that he is not welcomed in Thailand.
The actress′ love affair also put her boyfriend-recently-turned-fiancé ′Tono′ Phakin Kumvilaisak, a famous singer from the popular reality show ′The Star′, in the list, earning the nickname "The Wife Seeker" (ค้นฟ้าคว้าเมีย). The nickname plays on the motto of the show – the Star Seeker – and his relationship with Ms. Tangmo, who is considered to be much more successful.
Before his relationship with Ms. Tangmo was made public, Mr. Phakin has previously vowed to the press he would remain single and focus on his entertainment career. Much of the public was shocked by the sudden announcement of Ms. Tangmo′s engagement with Mr. Phakin last week.
Another celebrity, famous actress Janie Thienphosuwan, made it into the list as "The Innocent [Marriage] Certificate Thief" (แบ๊วฉกทะเบียน) due to her controversial relationship with Mr. Chonsawad ′Ae′ Assavehem, the son of prominent politician convicted of corruption who is currently living in exile.
Ms. Janie has repeatedly denied media reports that she and Mr. Chonsawad – who was married to singer Nanthida ′Too′ Kaewbuasai – had been dating secretly for 5 months until Mr. Chonsawad broke the silence by announcing to the press that he had married Janie legally, and that his marriage with Ms. Nanthida was ended long ago.
The photo of Ms. Janie and Mr. Chonsawad holding up their newly signed marriage certificate hit the frontpage of many newspapers on the next day.
Ms. Nanthida, meanwhile, was handed the nickname "Generous Madam" (มาดามเอื้ออาทร), as she refused to spill the beans about Mr. Chonsawad′s relationship with Ms. Janie before they informed the press themselves.
In a reconciliatory gesture, Ms. Nanthida also told the press few days afterwards that she would remain a friend of her ex-husband, and she was willing to work with Ms. Janie in the future.
Also included in the list is Baitoey R-Siam, the pop-country-dance superstar whose real name is
Ms. Suteewan Taweesan. The media association handed her the nickname as "Shorty Tricked By the Square" (สั้นเสียเหลี่ยม).
The name is a parody on her previous nickname bestowed in 2012, "Short Skirt" (สั้นเสมอหู) and the incident in which she was rumoured to be in a secret relationship with former PM Thaksin Shinawatra after she was reportedly photographed walking with Mr. Thaksin in Dubai; Mr. Thaksin himself is nicknamed "Square Face" by his critics.
Baitoey later admitted she flew to Dubai to perform a small concert for Mr. Thaksin and denied the reports about any romantic relationship with the former leader – but it soon emerged that she has not consulted with her record company RS before she talked to the press about the matter ,enraging top executives of the company.
The nickname winners did not react too kindly to the news.
Ms. Pattathida said she felt the nickname is too harsh. She insisted that she is not an impolite person. "I just like to say things honestly, and the Thai society might not find it acceptable at the moment," the actress said. Nevertheless, she thanked the media for coming up with a nickname for her.
Her fiance, Mr. Phakin, said curtly that he was not offended by the nickname but he did not like it neither.
Meanwhile, Baitoey responded to the nickname by shrieking her surprise at reporters when told about the nickname. "Why is my nickname this year not cute like last year?" Baitoey asked them, "The nickname looks scary. But ok. If you ask me, is it too harsh? I can say it′s harsh, or I can look at it as a funny term".
She added, "It′s not like I′m angry, but I′m just surprised. I mean, wow, why are you [reporters] so good at giving people nicknames?"
The superstar also joked that her company might eventually benefit from the nickname by producing a song based on it.
However, Ms. Janie said frankly she hated her nickname.
"I′m not happy and I don′t like this nickname I received," Ms. Janie said, "If it′s possible, I want this nickname to be retracted, because it sounds like I stole someone′s man. I feel it′s disrespecting me, and I believe Ae would not like this nickname either".
For comments, or corrections to this article please contact: [email protected]
You can also find Khaosod English on Twitter and Facebook
http://twitter.com/KhaosodEnglish
http://www.facebook.com/KhaosodEnglish