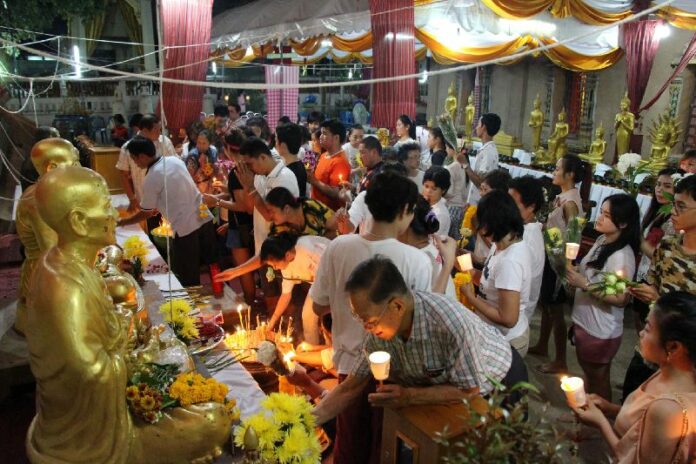 (17 February) Smoke from joss sticks in religious ceremonies could increase cancer risks and exacerbate respiratory conditions, a public health official warned.
"It′s a silent danger that comes with the incense," said Mr. Anucha Setsathien, MD, Secretary-General for National Institute for Emergency Medicine (NIEM).
Joss sticks and other incenses are commonly used in many religious ceremonies in Thailand, and Mr. Anucha′s warning came just few days after Makha Bucha Day, one of the most important religious holiday in Buddhist tradition.
However, although participating in merit-making or prayer at the temples may grant the worshipers a peace of mind, the joss sticks can also harm the temple-goers, Mr. Anucha said, explaining that the incenses tend to release toxic substances when they are lit.
A joss stick typically contains ingredients such as saw dust, glue, essence, leaves, barks, and seeds which lengthen the stick′s burning and sweeten its smell, according to Mr. Anucha. Once burned, he said, formaldehyde, benzene and butadiene are released from the joss stick in a form of smoke. The substances are known to increase the risk of cancers to human once inhaled.
Mr. Anucha stated that individuals with lung diseases and recurrent asthma should avoid the joss stick altogether, or at least reduce the numbers they use in ceremonies.
"In Thailand, some people light as many as 9 joss sticks in order to pray to the Buddha, the Tripitaka, and the Sangha," Mr. Anucha said.
He also encourages asthma patients or their relatives to call hot line 1669 and follow the instruction if their conditions are suddenly worsened by inhaling joss stick smoke.
For comments, or corrections to this article please contact: [email protected]
You can also find Khaosod English on Twitter and Facebook
http://twitter.com/KhaosodEnglish
http://www.facebook.com/KhaosodEnglish