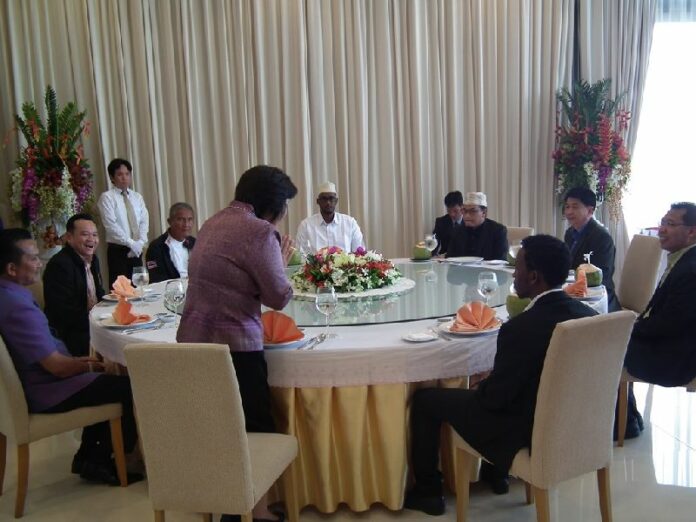 BANGKOK — The Ministry of Foreign Affairs has released a statement clarifying that, despite a number of media reports, the republic of Somalia does not in fact have a Crown Prince.
Officials at the Ministry said they have received questions regarding recent news reports, which appeared in Manager ASTV and Daily News newspapers, claiming that an heir to the throne of Somalia visited a famous botany park in Chonburi province on 19 April.
The reports identified the "crown prince" as Beeldaaje Mohamed, and said he was accompanied by the "Ambassador of Somalia" in Bangkok, "Sultan Mustafa Oyasi."
According to the reports from the two newspapers, Mr. Mohamed was given a regal welcome by a group of Nong Nooch Tropical Garden executives. His entourage was also escorted on a tour around the facility.
Manager ASTV and Daily News quoted Mr. Mohamed as saying that he would like to encourage Thai tourists to visit Somalia, especially because the country has experienced a brief lull of peace in recent months.
The news caused some confusion shortly after it was first published, due to Somalia's official status as a republic.
Yesterday, the Ministry of Foreign Affairs released a statement explaining that Mr. Mohamed was in fact a "community leader" in the Somalian state of Puntland, meaning he is an heir to the throne of one of many tribal groups in the region.
According to officials, Mr. Mohamed arranged a private visit to Nong Nooch park through a Thai businessman who has been living in Somalia since last month. It is understood that a miscommunication may have led the park executives to miskate Mr. Mohamed for a national monarch.
As for the man who was identified as the Ambassador of Somalia in Bangkok, the MFA statement said he was most likely a personal representative of Mr. Mohamed because Thailand has no official diplomatic channels with Somalia and there is no Somalian embassy in Bangkok.
Nong Nooch Tropical Garden executives are not immediately available for comment, but a representative says the company may release a statement later.
For comments, or corrections to this article please contact: [email protected]
You can also find Khaosod English on Twitter and Facebook
http://twitter.com/KhaosodEnglish
http://www.facebook.com/KhaosodEnglish