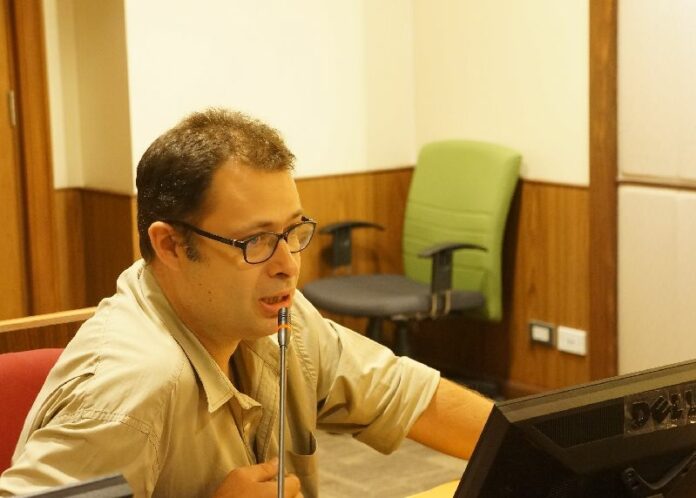 BANGKOK — Thailand's National Human Rights Commission (NHRC) will mediate a discussion between representatives of the anti-government protest movement and a German reporter who was allegedly assaulted by the protesters' guards, a top official said on Wednesday.
The meeting was scheduled for this Friday after freelance journalist Nick Nostitz filed a complaint with the NHRC regarding his alleged attempted abduction by guards from the anti-government People's Committee for Absolute Democracy With the King As Head of State (PCAD).
According to Mr. Nostitz, a group of men wearing PCAD guard outfits approached him outside the Constitutional Court on 7 May while he was taking a short break from reporting on the trial of former Prime Minister Yingluck Shinawatra.
After the men identified him as "Nick" and ordered him to visit "Luang Bu," possibly referring to the monk and core PCAD leader Buddha Issara who maintains a protest site nearby, Mr. Nostitz tried to walk away. When he stood up to leave, the three men reportedly shoved him repeatedly and tried to take him with them.
"You are the NHRC, so I must complain to you," Mr. Nostitz said to National Human Rights Commissioner Niran Pitakwachara on Wednesday. "I want to talk to PCAD and ask them why they did this. I want them to understand me."
After listening to Mr Nostitz's testimony, Mr. Niran signed the complaint and said the NHRC would hold a meeting between Mr. Nostitz, representatives of PCAD, and the police, scheduled for this Friday.
"We want to arrange an open dialogue between the different sides so they can state the facts in front of me and the Commission," Mr Niran said. "But here's the important thing I want to stress: the dialogue won't be a debate table or a boxing ring. I won't be a referee. If people want to argue about politics, they will be expelled from the meeting room."
Mr. Nostitz said he is pleased with the result of the meeting. "I've wanted to talk to the PCAD for six months, but they've refused," he said.
Mr. Nostitz was previously attacked by PCAD demonstrators in November, after an activist and former Democrat Party MP urged the crowd to "expel" Mr. Nostitz from the protest site because he was a "Redshirt journalist," an allegation Mr. Nostitz denies.
Mr Nostitz says he has received numerous death threats since the initial incident, and following the abduction attempt last week, he has requested two police officers guard his house at night.
"I'll never be safe at PDRC rallies," said Mr. Nostitz. "Even if their leadership orders that no one do anything to me, they won't be able to control the most militant guards. I know I'll never be able to go there again."
Mr. Nostitz, who has worked as a freelance journalist in Thailand for 21 years, said his inability to cover anti-government rallies has crippled his ability to work as a reporter.
"In the last 6 months I've basically had hardly any income," said Mr. Nostitz. "Initially I had several assignments lined up, but I had to cancel them."
Mr. Nostitz added, "It's very painful for me because all these years I've always been able to report for both sides."
Mr. Niran said the NHRC would release a statement today condemning the recent surge of political violence and attemps to intimidate the media.
In the past week there have been several grenade attacks on protest sites and one on the home of a Conustitutional Court judge, as well as numerous reports of PCAD guards assaulting innocent bystanders.
This week, anti-government protesters also stormed almost all of Bangkok's state-owned TV stations demanding they broadcast a speech by the group's leader, Suthep Thaugsuban.
Both PCAD representatives and PCAD guards will be invited to Friday's meeting, an NHRC official said. It's not immediately clear whether either will accept the invitation.
For comments, or corrections to this article please contact:[email protected]
You can also find Khaosod English on Twitter and Facebook
http://twitter.com/KhaosodEnglish
http://www.facebook.com/KhaosodEnglish