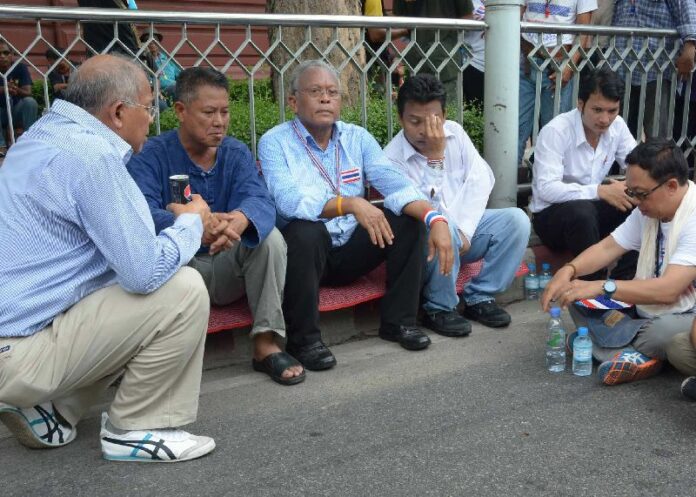 BANGKOK — The Speaker of the Senate has postponed a decision on whether or not to appoint an unelected Prime Minister as anti-government protesters have demanded.
Speaking at a highly-anticipated press conference this evening, Senate Speaker Surachai Liangboonlertchai said the Senate is willing to convene a parliamentary session to appoint a non-elected "neutral" Prime Minister "if necessary," but did not elaborate on what the conditions are.
He also urged the interim government to immediately undertake national reforms "in every aspect," and suggested that Thailand needs a fully-functioning government as soon as possible.
Mr. Surachai's statement disappointed many anti-government protesters who expected the Senate to announce plans for an unelected Prime Minister today.
The statement came after Mr. Surachai's week of meetings with different agencies and organisations to seek input on how to resolve the political conflict that pits the embattled government of acting Prime Minister Niwatthamrong Boonsongphaisarn against anti-government protesters and their backers in the establishment.
Pro-government supporters have denounced the "forum" as a transparent effort by the pro-establishment faction of the Senate to create legitimacy around anti-government protesters' proposal to replace Mr. Niwatthamrong with an unelected PM.
Suthep Thaugsuban, leader of the People's Committee for Absolute Democracy With the King As Head of State (PCAD), also met with Mr. Surachai this week and urged him to "listen to the Great Mass of the People" by invoking Article 7 of the Thai Constitution.
According to Mr. Suthep, Article 7 enables the Senate to appoint a Prime Minister of their choice with royal approval from His Majesty the King.
Article 7 states, "Whenever no provision under this Constitution is applicable to any case, it shall be decided in accordance with the constitutional tradition in the democratic regime of government with the King as Head of State."
Mr. Suthep told the Senate that they had until the end of this week to do his bidding.
Upon learning that Mr. Surachai refused to install an unelected PM on Friday, Mr. Suthep, who was leading a large PCAD rally just outside the Parliament, expressed outrage and claimed that he would no longer associate himself with the Senate Speaker.
"We have heard his answer, that we have to wait," Mr. Suthep told the crowd. "The second I heard it, I felt happy to say that I will never meet him again in Parliament. I am happy to quit politics for lifetime because I am tired of this kind of talking."
Mr. Suthep also scolded Mr. Surachai for telling reporters that there is no need for the Senate to personally explain their decision to the PCAD.
"Fine, we don't want to talk to you either!" Mr. Suthep said to a loud cheer from his supporters.
Mr. Surachai's announcement came as a setback for the PCAD, who have adopted the invocation of Article 7 as the centrepiece of their campaign.
Following the announcement, Mr. Suthep appeared to be at a loss of what to do next. After delivering a short rant directed at Mr. Surachai, the PCAD leader unceremoniously ordered demonstrators to march back to Democracy Monument and contemplate their next move "over dinner."
Although Mr. Surachai did not rule out the possibility of appointing an unelected Prime Minister, his decision today nevertheless eased pro-government supporters' fears that the Senate is 100% committed to Mr. Suthep's plan.
The United Front of Democracy Against Dictatorship (UDD) has previously threatened to escalate their protests if the Senate proceeds with invoking Article 7.
Also today, a group of activists staged a protest against Mr. Suthep's quest for an unelected Prime Minister in the shopping district of Bangkok. Holding up signs that read "The People are the Neutral Party," the activists called the effort to install a "neutral" PM misguided, and insisted that an election be organised as soon as possible.
For comments, or corrections to this article please contact: [email protected]
You can also find Khaosod English on Twitter and Facebook
http://twitter.com/KhaosodEnglish
http://www.facebook.com/KhaosodEnglish