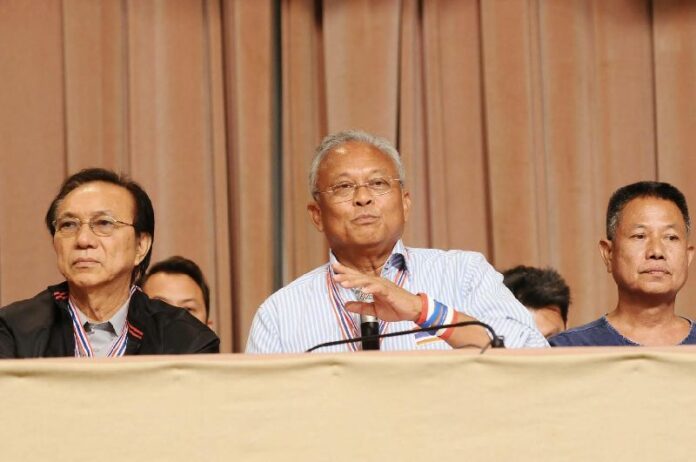 BANGKOK — Leader of the anti-government protest movement Suthep Thaugsuban has said he will turn himself in to the police if his upcoming "final fight" against the government fails.
"It will have to end by 26 May," said Mr. Suthep, the leader of the People's Committee for Absolute Democracy With the King As Head of State (PCAD). Mr Suthep announced last night that "victory" will be achieved by a massive "operation" to be launched next week.
Although Mr. Suthep is known to have announced numerous "final fights" in the past — a report by Prachatai places the number at 11 — the PCAD leader insisted that next week's campaign will truly be the final struggle against the government of acting Prime Minister Niwatthamrong Boonsongphaisarn.
In fact, Mr. Suthep said that if next week's "final fight" is not victorious, he will accept defeat and turn himself to the police.
It is the first time that Mr. Suthep, who is wanted on charges of insurrection and other related offences, has expressed a willingness to turn himself in since the PCAD began its protests in November 2013.
Anti-government protesters accuse the current government of being a proxy for former Prime Minister Thaksin Shinawatra, whom the protesters view as a corrupt, anti-monarchy tyrant who continues to meddle with Thai politics from his self-imposed exile in Dubai.
Mr. Suthep announced last night that on 19 May PCAD demonstrators will begin "hunting down" the government's Cabinet members and force them to resign.
"Those who know about the houses and safehouses of each Minister should report these home addresses to us." Mr. Suthep said, "We will organise rapid-moving units, and units that coordinate with neighbours and bureaucrats to determine where those Ministers are hiding."
He said he expects all of the 25 Ministers to be "found" within three days.
Mr. Suthep also said that the PCAD will encourage all state workers and bureaucrats to "rebel" against the government and hang banners proclaiming their loyalty to the "Great Mass of the People" in front of their offices.
Mr. Suthep said he plans to convene a meeting on 22 May with the leadership of every ministry, department, and state agency to "purge" those who are sympathetic to "Thaksin Regime."
"It does not mean we want to get rid of anyone. We will discuss how to re-educate the mind of those who serve Thaksin Regime," Mr. Suthep explained.
Finally, the "Great Popular Uprising" will reach its climax on 26 May, when "millions of people" are expected to pour into the streets across Thailand, said Mr. Suthep.
"The operation to return Sovereign Power to the people will commence on 19 May. It will wrap up by 26 May, and 27 May will be the day we celebrate the victory of the people," Mr. Suthep said, "This is the last roll of the film. 27 May has to be the Day of Victory of the Great Mass of the People."
"If the people do not come out in millions [by 26 May], I will cease all struggles, because I cannot fight more than this," Mr. Suthep said. "We have to prepare our hearts for either victory or defeat. We have done our best. Therefore, we will dedicate all we have to our missions from 18-26 May."
He added that he did not choose the date of 27 May as the Day of Victory based on any astrological calculation.
"I see that it is the time when the movies will have been playing for too long. It has to end," said Mr. Suthep. Whether it will be a happy ending is up to the people throughout the country."
Mr. Suthep also suggested that Prime Minister Niwatthamrong resign before the PCAD attempts to unilaterally seize power on their own. For months, the PCAD has called for the creation of of an unelected "People's Council" headed by an appointed PM tasked with implementing a series of unspecified "national reforms."
The PCAD had previously demanded the Senate appoint an unelected Prime Minister to replace Mr. Niwatthamrong in accordance with Mr. Suthep's interpretation of Article 7 of the Thai Constitution, but Senate Speaker Surachai Liangboonlertchai indicated on Friday that he would not comply with Mr. Suthep's demand for the time being.
Although Mr. Surachai did not rule out the possibility of an invocation of Article 7, the Senate's lack of action is considered to be a major setback for the PCAD.
For comments, or corrections to this article please contact: [email protected]
You can also find Khaosod English on Twitter and Facebook
http://twitter.com/KhaosodEnglish
http://www.facebook.com/KhaosodEnglish