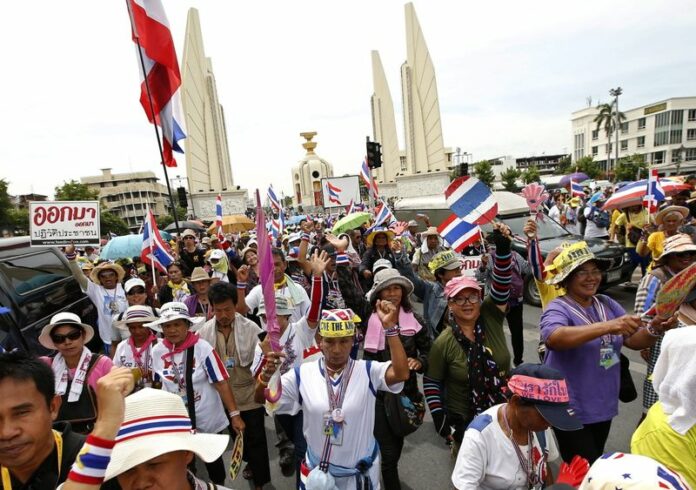 By Somchai Kwankijswet and Peter Janssen (DPA)
BANGKOK — Thai army Chief Prayuth Chan-ocha early Tuesday declared martial law, giving the military full control over peace-keeping in the country that has seen six months of anti-government protests.
The statement was issued about 3 am Tuesday (2000 GMT), according to local media reports.
In a brief statement Prayuth dissolved the government's Centre for Maintaining Peace and Order (CAPO) and set up an army-controlled peace keeping centre.
Prayuth has the authority to declare martial law without the consent of the government, which has had caretaker status since December 9.
"It looks like he may have decided to do this without consulting the government, since his first order was to dissolve the CAPO which was jointly run by the government and police," said Panitan Wattanayagorn, a political scientist and military affairs analyst at Chulalongkorn University.
Thailand has been wracked by six months of non-stop protests seeking to topple the government.
At least 25 people have died in political-related violence and more than 700 injured.
On Thursday, Prayuth warned the army would use "full force" to maintain law and order in the country during the on-going political crisis, after three protesters were killed.
The declaration of martial law follows the launch over the weekend of a "final battle" against the government by Suthep Thaugsuban, leader of the People's Democratic Reform Committee (PDRC), the main anti-government protest group.
Suthep on Saturday said he would pressure the remaining 25 members of the caretaker cabinet to resign and launch a mass protest on Friday to Monday to topple the administration.
He vowed to turn himself in to authorities to face insurrection charges on May 27 should his final battle fail.
"I think Prayuth is trying to neutralize the confrontation between the PDRC and elements of the pro-government groups who have threatened to fight back if Suthep's group capture some of the ministers," Panitan said.
Martial law gives the army control over security, but leaves the government in command of other tasks, unlike a coup.
Thailand has witnessed 18 coups in the past eight decades, the last of which ousted former prime minister Thaksin Shinawatra in 2006.
The army has stationed troops in the capital to help police keep the peace during the past six months of protests, which have brought Thai politics to a stalemate.