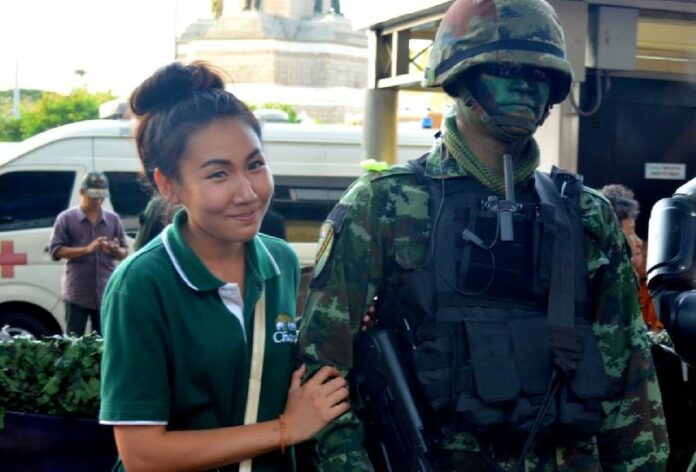 BANGKOK — Hundreds of Thais gathered by Victory Monument, the former site for anti-coup rallies, to partake in the military junta's "Returning Happiness to the People" concert and fair in Bangkok today.
​The event featured live music put on by soldiers and policemen, accompanied by performances from professional dancers. There was also free food, free medical check-ups, two live horses from the 29th Cavalry Division, and plenty of opportunities for 'soldier selfies.'
"These are real soldiers! Real humans, not mannequins," a security officer yelled over a loudspeaker with gusto, gesturing towards a row of soldiers who stood ready to be photographed. "They are ordered to stand very still so you can take pictures with them!"
"They want you to be happy," he added. "You can even kiss them on their cheeks!"
The concert was part of the National Council of Peace and Order's ongoing effort to "return happiness to the Thai people," following the coup d'état it staged on 22 May. The NCPO says it was necessary to seize power from the civilian administration in order to resolve the political conflict between pro- and anti-government protesters that had debilitated the country's government and economy for months.
On Friday, the NCPO said it would devote the next 2-3 months to seeking "national reconciliation." In addition to staging morale-boosting events like tonight's party, the military has censored dozens of media outlets, detained hundreds of politicians and political thinkers, and banned all public protests in its effort to "heal" Thailand's political divisions.

A soldier working at the army's "Happiness" fair by Victory Monument in Bangkok on 4 June 2014 [SALLY MAIRS].
"Anything that makes the people happy, we are willing to do," said a soldier who was tasked with taking care of a horse at tonight's event.
The soldier, who refused to be identified by name or rank, also had a message for the United States government, which has sharply criticised the military takeover in Thailand.
"Please tell America that we are all happy here," he said.
Army chief and NCPO chairman Gen. Prayuth Chan-ocha recently said that the "happiness" of Thai people is one of the military junta's top priorities. Yet the military's increasingly harsh crackdown on anti-coup protesters has caused many people to question his sincerity.
Last week, anti-coup protesters began staging daily rallies at Victory Monument, the same site as tonight's "Returning Happiness" concert. However, they were forced to find new rally locations over the weekend after a swarm of security forces occupied the site and blockaded all incoming roads, successfully preventing any anti-coup demonstrations from taking place.
There did not appear to be any anti-coup protesters at tonight's event, which was heavily guarded by security personnel.

Thais celebrate the army at the junta's "Happiness" fair by Victory Monument in Bangkok on 4 June 2015 [SALLY MAIRS].
A group of Thais wearing matching "We Love Thai Army" t-shirts at the concert told Khaosod English they were grateful for the coup, which they said has returned life in Bangkok back to normal.
"When there was political turmoil, we had a lot of problems, like traffic jams," said a member of the group who asked not to be named.
"We feel safer than before," said another. "Thai people are used to coup d'états. It's the Thai style."
The NCPO held two other free concerts over the weekend in Pathumthani province, a major stronghold of the supporters of the previous government, and in Santichaiprakarn Garden in Bangkok's old quarters.
(Reporting by Sally Mairs)