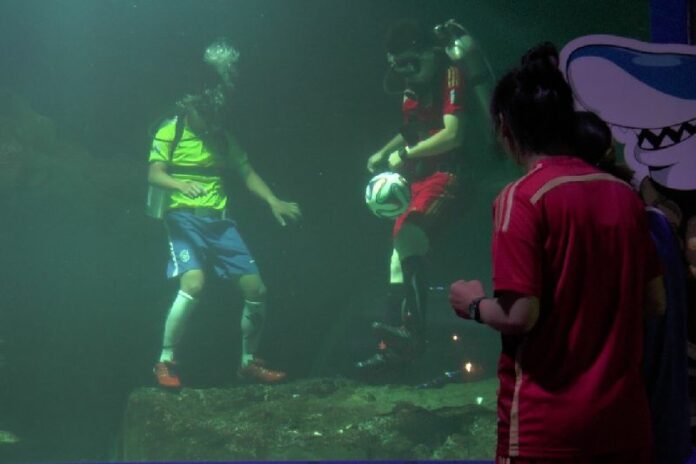 UPDATE: The Thai military junta has ordered RS to air all World Cup matches on state-owned television channels in exchange for 427 million baht.
BANGKOK — Thailand's supreme administrative court has granted Thai media giant RS exclusive rights to broadcast the 2014 FIFA World Cup matches, making it the first time in Thai history that viewers will not be able to watch the entire football tournament for free.
The court decision follows a bitter legal fight between RS and Thailand's media-regulating body, the National Broadcasting and Telecommunication Commission (NBTC), over who had the rights to broadcast the World Cup tournament to Thai viewers.
RS argued that it secured the rights to broadcast the matches from FIFA, the tournament's organiser, and said that viewers who wanted to watch the games on their TVs had to purchase a special 1,700 baht "signal box" from the corporation.
The NBTC attempted to challenge RS's exclusive claim to the World Cup broadcasts, citing a potential breach of customers' rights, and ordered that all of the matches be made available on Thailand's state-owned TV for free. In response, RS filed a lawsuit against the NBTC.
In a key ruling announced today, a judge struck down NBTC's order and upheld RS's sole rights to the matches, making it the first time in Thai history that a private corporation has owned exclusive rights to broadcast World Cup matches. In previous years, a "pool" of state-owned TV channels shared the rights and broadcasted the matches for free.
This year, RS has agreed to allow state-owned TV channels to broadcast 22 out of 64 games, including the final matches. TrueVision, Thailand's major cable TV corporation, has also bought the rights from RS, at an undisclosed sum, to broadcast all 64 matches to its subscribers.
Although restaurants and pubs that have purchased RS's signal boxes will be able to broadcast the matches to their customers, many Thais will likely be forced to buy the signal boxes for their own homes because the military junta has not lifted its midnight – 4 am curfew. Most of World Cup matches will be played during in those curfew hours.
There were hopes among Thai football fans that the military junta may intervene and force RS to relinquish its exclusive rights. Daily News quoted Gen. Prayuth Chan-oca, army chief and chairman of the National Council for Peace and Order (NCPO), as saying the army will ask for cooperation from RS to broadcast all of the 64 matches on Channel 5 and 7, which are operated by the army.
The news led many commentators on social media to joke that the NCPO is finally "Returning Happiness to the People" — the name of the military's national reconciliation campaign.
However, their hopes were dashed when NCPO spokesperson, Col. Winthai Suwaree, told FM 97.0 radio this morning that he is not aware of any plan by the NCPO or Gen. Prayuth to ask for cooperation from RS to broadcast the matches on army-operated channels.
"Let me stress that I am not aware of this information," Col. Winthai said.
Col. Winthai also previously told the press last week that the NCPO has no immediate plan to revoke the military curfew in time for the kick-off of 2014 World Cup.
Football is extremely popular in Thailand, and World Cup matches typically bring huge crowds to restaurants and bars across the country. This year's FIFA World Cup will kick off in Brazil on 12 June, which falls on the early morning of 13 June according to Thailand's timezone.
For comments, or corrections to this article please contact: [email protected]
You can also find Khaosod English on Twitter and Facebook
http://twitter.com/KhaosodEnglish
http://www.facebook.com/KhaosodEnglish